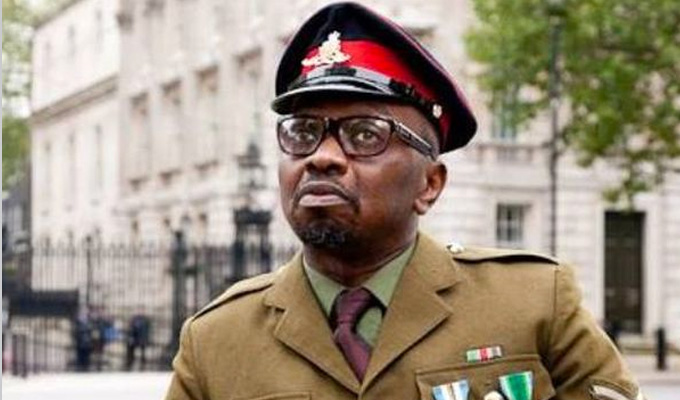 How long do I keep calling myself a new comedian?
President Obonjo speaks on Comedy Competitions 
Comedy competitions are a great way to showcase your talent in front of industry people and to play to audiences that have never seen your act. But there are times you wonder after you have been going for years: At what point do you stop calling yourself a new comedian? 
It has been a great year for me, reaching the finals of seven comedy competitions and winning two of them has helped raise my profile. One was based on audience voting only and the other was a combination of audience voting and the judges' voting.
 But there are comedy competitions and there  are comedy competitions.
I recall at the beginning of my career I won Luton Comedian of the Year and thought I had conquered the world. I had no idea of other comedy competitions like the BBC New Comedy Awards.
I have entered the prestigious annual Leicester Square New Comedian of the Year twice, going out in the heats and then in the quarter finals the following year. I had resigned myself to not entering again and decided instead to enter the Great Yorkshire New Comedian of the Year (I live in Luton). I was runner up and automatically progressed to the semi-finals of the Leicester Square competition.
A few weeks before the semi-finals I knew I had to invite friends to come and vote and support me. Invitations went out on Facebook and I tweeted on Twitter and I spoke to a few people individually and they said they would come – I was elated.
I continued gigging across the country to get match fit. I needed to prepare a polished five minute set.
As I sat in a coffee shop, I reflected on my Edinburgh Fringe show last year.
It was a one hour show. I received five stars with some degree of success.
I thought: Why am I stressing about a comedy competition with a five-minute set?
The Leicester Square gig was on a Sunday. I turned down all other gigs the weekend before, just to relax and reserve my energies.
On the day of the gig, I could not relax. I was not worried about my set but more worried that no one would show up and support me and that would hurt me more than not getting through to the finals. This competition includes audience voting and it does help if your friends are in the audience.
I arrived at the venue. The first semi-final had been concluded that evening and I knew one of the comedians who had gone through to the final. He had come third at the Great Yorkshire New Comedian of the Year 2016.
I thought: Yes! I am going to get through to the final!
I met the comedians I was going to be competing with. Some were already in The Zone.
We walked into the venue to choose where we wanted to be in the running order.
I chose the last spot – I am the President and I should close the show. I thought: It's going to work! 
The venue was filling up and no one showed up to support me. I was going to be performing to an audience of friends of other comedians. This was going to be tough no matter how funny I was. It was going to be hard to get through.
I waited in the dressing room. The MC called my name and said this was the most difficult spot. I got on stage, did my thing and I was pleased with my performance. Very pleased.
The results were announced.
I was not placed in the final.
My initial reaction was one of utter disappointment. I had wanted this so much.
As I walked out of the building, an audience member came to me and whispered: Y'ou were very funny tonight but I could not vote for you.'
Another comedian said: 'You smashed it; you should have got through. ' 
As I walked home, I thought: I gave it my best shot, but who knows? I might get a wild card.
That thought – I might get a wild card – kept ringing in my ears. I got home, slept it off, checked my email.
There was a gig offer from a comedy promoter but no wild cards.
A few days later, the finalists were announced.
I smiled and wondered who was going to win.
I needed to move on but I wondered if I would ever do another comedy competition. Three more are left I think: the BBC New Comedy Awards, the Old Comedian of the Year and the Silverbird Comedy Awards for those over 55. I still have a few more years left for that last one.
I have no regrets about taking part in comedy competitions. They have been a real opportunity to showcase my talent in front of the industry and I have got great reviews from them.
• President Obonjo of Lafta Republic will be taking his show The Rise of the Comedy Dictator to Brighton, Glasgow and the Edinburgh Fringe next year.
• The final of the Leicester Square New Comedian Of The Year takes place on Sunday November 27  at 8.30pm. Finalists are Danny Clives, Jake Baker, Joby Mageean, Lauren Pattison, Lulu Popplewell, Micky Overman, Neil O'Rourke, Olga Koch, Patrick McCabe, Peter Bazely, Radu Isac, Lewis Dunn as Stanley Brooks
Published: 16 Nov 2016
What do you think?