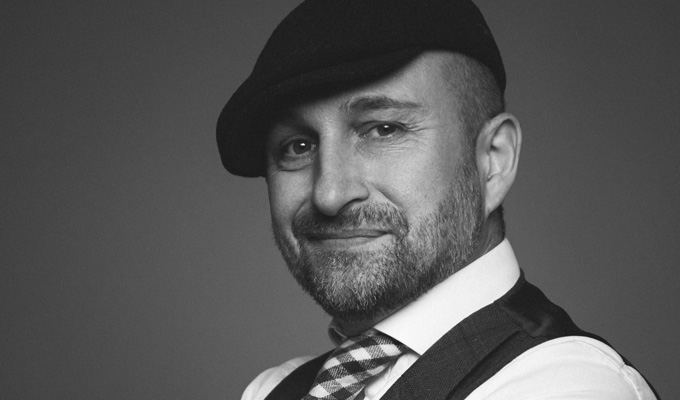 Can we be friends, variety and stand-up?
Dear stand-up comedy people,
I am not one of you. I am an interloper. An outsider. Chortle left their backdoor unlocked, and here I am. I come from a place where laughs are good but gasps are better, a place where every act has actual luggage alongside personal baggage, a place where it is still, occasionally, acceptable to wear sequins unironically. My name is Mat Ricardo and I am your new variety correspondent.
Standup and variety used to be friends. We used to hang out in the same places, share the same bills. When the modern British comedy scene started it was, of course, a reaction to the mainstream light entertainment world of misogyny, racism, homophobia and associated unpleasantries. But those first dangerous, experimental, edgy clubs that sprang up in the early 1980s weren't just about stand-up. They called it 'alternative cabaret', and alongside the comedy reboot variety was also given a place to evolve.  When I got my first ever listing in Time Out  magazine (As 'Rik Mikado', thanks proofreaders), it was in the Cabaret section, where stand-ups were listed alongside musical acts, clowns, mime artists, jugglers, unicyclists, and 57 varieties of odd, and often brilliant mullarkey. Remember the Ice Man? He melted ice. It was hilarious. Back in the day, the big clubs like Jongleurs would always finish with a big crowd-pleasing speciality act. 
But over the years, for a multitude of reasons, stand-up moved to the forefront, Time Out's Cabaret section became Comedy, and speciality acts started to feel less welcome on the circuit. Of course, although variety acts largely vanished from the circuit, they didn't stop doing their thing. Variety is a resilient artform, a good spesh act can work anywhere, and thats always been what they did. 
Recent history is full of times when, apparently, variety died – it died when they closed the music halls, it died when TV arrived, and it died again when stand-up grew into the dominant live artform. But in reality there were no deaths. The performers just moved venues like the travelling carnies they are – they thrived as street performers, in circuses, in theatres, on cruise ships, and in venues abroad, where variety remained a vibrant and evolving artform. I've worked all of those places and more, but always with half an eye on my hometown just in case variety started making any kind of a comeback.
And holy crap, it kinda did.
Burlesque started to re-appear, and with it came a revival of cabaret, and more and more mixed bill shows started popping up. Time Out even started a new Cabaret section alongside Comedy, which was perhaps as much a comment on the sameyness of mainstream comedy club bills, as it was an acknowledgement of the exciting stuff that was happening in cabaret and variety. It felt like the edgyness, danger, and experimental creativity that was the fuel for the 1980s alternative cabaret revolution now lived in this new circuit. 
It's tempting, if you haven't seen any modern variety, to think of it still as a Summertime Special style piece of outdated kitsch, but when the comedy world has banal vermin like Dapper Laughs, who would fit perfectly into a 1970s episode of  The Comedians, were his craft better, it might be beneficial to reassess. But thanks perhaps to festivals and fringes, where the separate worlds of comedy and cabaret clubs sometimes come together, often while drinking, the lines between us have happily started to blur a little.
Our mother is the same, its just that while comedy's father was busy noticing things in a wry manner, cabaret's vanished when the circus left town. We all share similar experiences of working to drunk late night audiences (Except comics have probably never had their own props hurled back at you by an unruly mob, as I have), we all spend too much of our lives on buses, trains and planes bouncing from stage to stage (Except comics probably don't have to lug a huge suitcase and a table in a ski bag wherever they work, like I do. And oh my god we hate stand-ups for their lack of suitcases. Bastards.), we all work long hours in a stupid job that can be backbreaking and heartbreaking, continuing to chase those moments when a room full of people are with you, have decided to like you, and by doing so, give you the reassurance that the absurd idea you once had, that you could make a living, or even a success, this way, wasn't so misplaced after all. 
Chortle has done an amazing job over the years, of letting comedians talk about their work, their lives, their opinions, and by doing so, has given its readers a deeper understanding of something they love. With a little luck, these columns might do a little of the same for my world of variety and cabaret. So maybe its time for us to be friends again.
• Mat Ricardo's new variety column will run on the first Monday of each month. His website is here and he tweets here.
Published: 7 Mar 2016
What do you think?