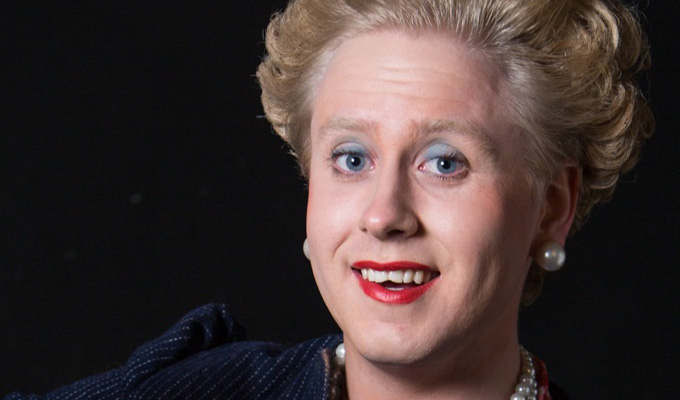 Dear Chris Bryant...
Dear Chris Bryant MP,
You classist gimp*. I read in James Blunt's open letter that you think it's more difficult for people to get into the arts if they come from an underprivileged background. Outrageous! As someone who is currently making tsunami-level waves in the entertainment biz that James Blunt can only dream of I can assure you that it is equally if not more difficult for those of of us who come from a *quote unquote* 'privileged' background.**
I happened to be Prime Minister of the United Kingdom, OK? I didn't choose to be, the public voted me in three times so blame them. But let me tell you not one of my Cabinet Ministers helped me on my way to becoming the beloved global cabaret superstar/all round entertainer I am today.
Nor did any of my private secretaries. Nor my chauffeur. Nor even Dennis. I hired my first two backing dancers Hessell and Tine with the money I saved from my holiday job (being Prime Minister of the United Kingdom, see above), I performed my first gig in a pub in Tooting to just two people (three if you include Carol which I tend not to), and I even had to be taught how to smize by my friend Andrew Lloyd-Webber.
Apart from all the people who did, no one in Parliament had ANY knowledge or contacts in the music business. And my friend Jimmy no longer works for Top of the Pops so there was no going to him for help. After retiring as PM I was just expected to become a millionaire peer, a millionaire member of a board, a millionaire public speaker, a millionaire director of a charity or perhaps even a millionaire UN peace envoy. Those were the ONLY options available to me. So alien was a career as a Streisand-level breaker of hearts, that some people even laughed at the idea of me going into the music business. That's why I famously punched Norma Major in the breast.
But after going against everyone's advice and leaving parliament to become the next Lulu, EVERYONE I met in the British music industry told me there was no way it would work for me because I was the former Prime Minister of the United Kingdom. One record company even asked if I could pretend not to have been. (I told them maybe I could pretend to be Mikhail Gorbachev instead, because unless you haven't realised yet, everyone else in this story is an idiot and I'm incredible witty, hardworking and deserving of all my success).
Every step of the way, my background as former Prime Minister of the UK has been AGAINST me succeeding in the music business. And when I have managed to break through, I was STILL scoffed at for being a former Prime Minister. And also for not being particularly good. But mostly for being a former Prime Minister!
And then you come along, Chris Bryant, looking for votes***, telling working class people that former Prime Ministers like me don't deserve it, and that we must redress the balance. It's your insidiously reasonable and vote-winningly fair assessment of social privilege that would make Britain crap if Britain were crap which I don't think it is because I'm a patriot but if it was you would be the reason for it, not me and my plummy voice and rousing rendition of Don't Cry for me Argentina.
I got signed in America, Chris Bryant ****, where they don't give a stuff about me being Prime Minister because they don't know what one of those is. Why don't you want Britain to be more like it is there? Where social mobility is significantly lower than the majority of developed nations, where the richest 30 people in the country own as much wealth as the poorest 50 per cent, and where you can begin life merely as the humble child of a President and end up becoming a President.
Perhaps what you've failed to realise is that the only head-start my time as Prime Minister of the United Kingdom gave me in the music business, where the VAST majority of people are NOT the former Prime Minister of the United Kingdom, is contacts, a support network, permission to fail, back-up options, no feelings of financial responsibility for anyone else and a blinding sense of entitlement.
So take your self-defeating, lead-us-to-a-dead-end, remove-the-'G'-from-'GB' thinking, which is to look at a situation that is not particularly fair and say, "it's not fair", because the only reason for my success is the fact that I happen to be objectively brilliant.
I checked my privilege, and it's doing wonderfully.
Yours uninhibited by the confines of ones social position,
Margaret Cucking Thatcher Queen of Funting Soho
*Sorry for starting so strongly, dear. But I want to get people tweeting about this.
**And what is privilege anyway? A sociological theory that some groups in society have advantages relative to other groups that can manifest themselves in ways both explicit and implicit? Oh. Yes, that is actually exactly what it is. But I digress!
***Check the North dear, that's where I always lose them.
**** Albeit by a man named Monty who operated out of the back of a Ford Mondeo in car park in South Carolina but 'a contract is a contract is a contract' as the Ferengi say in Star Trek.
• Margaret Thatcher: Queen Of Soho will be playing at the Leicester Square Theatre, London, on March 17 to 21.
Published: 21 Jan 2015
Recent Opinions
What do you think?