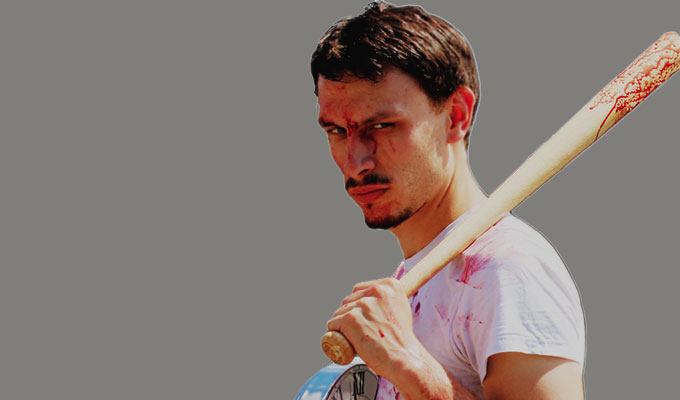 Tales of the door (part 2)
'I HAVE COME ALL THE WAY FROM ABERDEEN TO SEE THIS!'
He shouts.
'I HAVE WATCHED YOU ON YOUTUBE AND EVERYTHING!'
It's two minutes before my show starts and an aggressive-looking younger man has backed me into the wall outside my venue. He continues his tirade...
'There were people pushing in on the stairs and everything. You should have a system!'
'I do have a system.'
'What system?!'
'If you arrive five minutes before the show you get a seat.'
'As opposed to?'
'Five minutes after.'
(Pause)
'DON'T GET LIPPY WITH ME!'
I am currently dressed in my entrance costume for the start of my free show at the Edinburgh Fringe: a giant yellow foam mattress, with a cut-out hole in the top for my depressed face to poke through.
'It's chaos in here. You've got people on the stairs. People in the corridors. People already in the room. There's no system! Just a hole in the wall for people to move in and out! It's a disgrace!'
I have had some tumultuous moments in my five short years of doing comedy, but standing in a giant yellow foam mattress, with a cut-out hole in the top for my depressed face to poke through, while getting shouting at by a man roughly seven years younger than me, has to be an all-time low. I mumble some health and safety mumbo-jumbo back at him which only serves to irk him further...
'YOU CLEARLY DO NOT CARE ABOUT THE EFFORT I HAVE MADE TO BE HERE!'
I had to deduce there and then that he was either a psychopath or a sadomasochist. There's no way somebody sits through the YouTube content from my Chortle student days and decides to still bother to make a six-hour round trip to Edinburgh.
I had to stop myself from screaming back at him: "I DON'T CARE THAT SOMEBODY I DON'T KNOW HAS TRAVELLED FROM ABERDEEN TO SEE ME! I'M DRESSED IN A FOAM MATTRESS FOR CHRIST'S SAKE, LOOK AT THE STATE OF ME! OF COURSE I BLOODY CARE!!!" Instead I say...
'I'm sorry. I don't make the rules.'
… and with that, I was left to watch my first (and only fan) disappear down the stairs into the throng of Joel Dommett fans below and vanish from my sight, possibly forever, as the newly-installed software on my phone buzzes in my pocket to tell me I have one less Twitter follower and am now in single figures.
Yes, it was the Edinburgh Fringe 2014 and that familiar depressed feeling was creeping into my consciousness again.
It was only Day Three...
---
Back when I last did my last run at the Soho Theatre I had written an article for Chortle entitled: 'I've made it! I'm playing a venue with a door…' whereby I spoke with possibly a too smug and self-satisfied air about the upheavals I had faced at the Edinburgh festival 2013, competing with noise pollution from the bar next door thanks to not having a proper door on my venue and now that I was in the plush surrounding of upstairs at the Soho Theatre I could really let my comedy wings unfurl!
Well somewhere along the way karma had come back to kick me hard. It kicked me in the shape of the Counting House 'Attic Space' because I didn't just have one missing door this time...
I had three.
For those that have not been to this particular section of the Counting House, the top floor consists of three hotbox spaces; basically airing cupboards-turned-fringe venues with no windows or natural lights, arsonist's wet-dreams and labyrinthine death traps for any audience member who bothers to make the effort to get up the four – FOUR! – flights of stairs to the top.
To combat this Chilean mine disaster waiting to happen, the Counting House had removed all the doors to each room meaning that myself and the three other shows around me that were on at the same time had only a thin silk curtain separating us from one another.
The noise pollution was unbelievable, the heat was indescribable, and the rumbustious audience members freely entered in and out causing constant interruptions to the show. Even in the rare moments when things were settled, you could hear every word from the shows next door. If I had a pound for every time Jem Brookes finished off my set-ups, I would have accumulated more than I did from the bucket during the entire course of the run.
In a brutal bout of deja vu I was left once more to think hard and think fast as to how to solve the noise issue...
And I found myself building another door all over again.
I couldn't believe it. The second year running. I really felt like I might be cursed. Sawing up the wood, attaching the mattress, and hammering in the nails, releasing small bouts of stress along the way...
Don't...*Whack*...they...*Whack*...know...*Whack*...I...*Whack*...sold...*Whack*...out...*Whack*...the...*Whack*...Soho...*Whack*...Theatre...? *WHACK!*
And just as I was applying the finishing touches, and putting it in the storage cupboard...
'I'm sorry, what is this?'
The Counting House supervisor asked with a suspecting air...
'Well, it's a... door…'
'A door? What in the hell for…?!'
'Well, many reasons... Jem Brookes, mainly…'
'You cannot leave that here. It's too big. You have to take it with you. '
'But I live on the other side of –
'YOU CANNOT LEAVE THAT HERE!'
Before adding…
'I'm sorry. I don't make the rules.'
And so every single night, I would drag a forbidden four-by-eight foot door over my shoulder, like a crucifix, from my flat on the other side of the Meadows to the venue, questions of regret circling in my head...
Why did I accept a venue with no door? AGAIN?!
… drag it through the hordes of bellicose drunkards in the Pear Tree Courtyard...
Why on earth did I choose this as a profession?!
… drag it through the back door, past the unwitting eyes of the security guards outside, like a free Fringe Al Capone. A Rebel Without A Door. Indiana Jones and the... Counting House noise pollution...
Why didn't I pay more attention in chemistry?!
… up the stairs through the hordes of Joel Dommett fans queuing one floor below, reminding me just how far I still had to go to get to the top (both physically and metaphorically)...
Why did I turn that fan away?!
… before hiding out at the top of the stairs...
Why did I break-up with Sally Peters?!
… where I would tensely wait out the remaining few minutes for my show to start...
Why did I come back to this SHIT-HOLE FESTIVAL? Why? WHY?!
I did this for the remaining 21 performances of my show. Through sweat, tears, rain, and sleet, and thankfully, bar the odd occasional when an overly-excited Jem Brookes would reach a particularly loud cadence, it worked an absolute treat.
Maybe even improved proceedings...
For the show follows the story of a man who loses his memory and pieces it back together only to find out how appalling his life really was. Now that the audience were imprisoned by scummy, smelly mattresses, with no obvious route of escape, they had no choice but to face the harrowing neuroses of a man whose life is falling apart.
… and thanks to this much-needed added layer of claustrophobia, the show really clicked into place; audiences started to pick up, my love for the Free Festival returned, and I was invited to the Soho Theatre for the second time this year.
And with under two weeks away to the opening night, I am left to question once more in an air-conditioned venue three times the size with four times as many seats and a perfectly working door...
Will the show excel under these conditions? Or will some of the intensity be lost?
Only time will tell...
But one thing's for certain. My one and only fan won't be there. I bumped into him on the last day of my run in the bar downstairs.
Turns out he mistook me for Joel Dommett.
• Richard Gadd: Breaking Gadd is at the Soho Theatre , Wednesdays to Saturdays, December 3 to 20 at 10pm. Tickets here.
Published: 25 Nov 2014
What do you think?