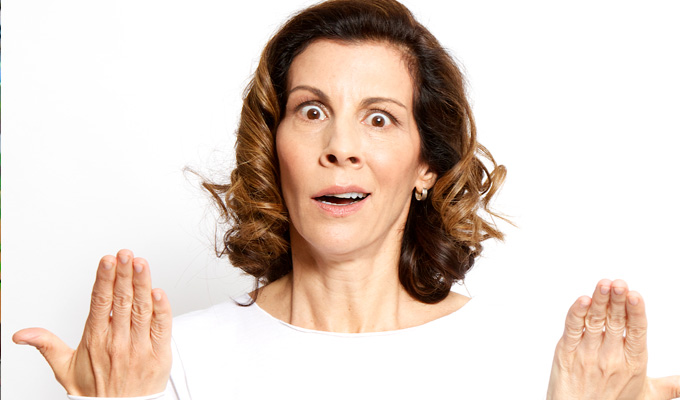 I swear I'm trying to clean up my act...
'Keep it clean' reminders seem to be everywhere; airplane toilets, the coffee area at work and my grandmother's advice about underwear. Makes sense, I get it.
But when it comes to stand-up comedy, 'keeping it clean' is another matter.
I hear 'keep it clean' and all of a sudden my hands get clammy, tongue turns to sandpaper and I feel faint. Part of me is grateful that I will pass out quietly in the green room instead of dying miserably on stage.
It doesn't help that the other acts all nod in agreement and say
'Great!'
'No problem!'
One of them volunteers a joyful: 'What fun! I have 600 hours of clean material, all GOLD.'
True to his word, 600-hours-of-comedy-GOLD does 20 minutes of clean material to rapturous laughter and applause. The crowd love him, the promoter loves him, the whole world loves him. I want to kill him. Slowly.
No, I don't have a 'clean' set. My material is not filthy but it's not squeaky clean either. And gold? Well, let's just say my gold has a lot of green copper showing through.
I'm on next.
600-hours-of-comedy-gold suggests I substitute all 'risqué' words with chess pieces.
'Chess pieces?' I respond in alarm.
'Sure! The audience will know exactly what you're talking about …'
Really? I step on stage full of comedy dread …
'Get your 'bishop' off my 'queen' you 'knight'! 'Pawn' - off!'
Needless to say I exit the stage amidst icy stares of non-comprehension from everyone in the audience, with the exception of the promoter who looks at a fixed point in the ceiling and shakes his head. I don't think he will be asking me back. Not in this lifetime.
Every other act does brilliantly and 600-hours-of-comedy-gold does an encore and gets a standing ovation.
It's not fair! Clean Comedy? Who wants clean comedy anyway? One of the reasons I started on this journey was to be able to say swear words – in public!
Let me explain – I come from a very prudish Catholic family, where children were never heard (unless you were praying), and anything said was a potential sin. Farts were referred to as 'your little bum coughing' and I was well into my teens when I found out there was a noun for 'down there'.
So of course I started comedy relishing the fact I could curse, swear and people would not judge me, but laugh with me. The problem was that at first no one laughed, except me. (I giggle uncontrollably whenever I swear.)
So it is with deep regret that I am slowly re-writing my material to make it cleaner, funnier and have no chess pieces involved.
For all that I know about comedy (which is not much) this is what I do know:
1. If in doubt, go clean. Most comedy audiences are up for anything (if funny) but every once in a while you get on stage and get that nasty feeling that your 'bishops' and blue 'pawns' won't be well received. I have learned to trust my instinct and keep it clean.
2, It's a numbers game. Personally I love comedians that are edgy, blue, go to places no one (certainly no Catholic) would go (think genius Bobby Mair or dark Sean Seanster) – but you have a better chance of reaching a wider audience by keeping it clean.
3. It's a challenge. As an example at an open mic gig the MC asks us to describe our acts. First comedian says 'dark and edgy', second comedian goes 'edgy and blue, I say 'cheerful and clean?'. Guess who got the dirty looks.
Of course I may be wrong. Since the 'chess piece' fiasco I have had the honour of watching 600-hours-of-comedy-gold bomb. Badly.
Happiest day of my life. CHECKMATE.
• Sonia Aste is a stand-up comedian trying to clean up her act. (She still giggles nervously every time she swears.)
Published: 21 Sep 2014
What do you think?