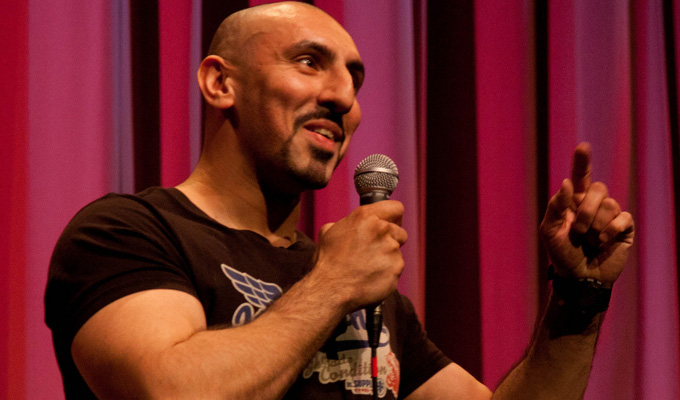 Failures make the successes more beautiful...
I have reached a stand-up milestone: 300 gigs in the 18 months since I started performing comedy.
I've averaged four gigs a week. The longest string was nine, the biggest audience 400, smallest audience two, farthest distance for a gig, the 500 miles from my West London home to Middlesbrough. Oh and I did my first hour show to 40 people.
I've spun out my car in snow sideways across two lanes on the M1 on the way home from a gig, I've almost gotten into a fight about BMWs with a heckler, and I got to 4m 30s at King Gong London, just 30 seconds shy of beating the gong, possibly due to doing a joke about fat Northern comedians when the compere was a fat Northern comedian.
I was gigging on crutches for three months after I broke my foot this year, I've been told by a woman 'I laughed so much I almost left a wet pool on the seat', I've been told by a hag 'I've had funnier things than you come with my breakfast cereal', and I've been asked by audience members to pose with pictures after they liked my performance.
Proper sick highs and lows, bruv.
It's an odd decision to start stand-up comedy at 36. Not many people can relate to chasing something so difficult to learn how to do, especially relatively late in life. And the reality is that this is an activity that requires so much effort for no more reward than the fact that you like doing it.
Perhaps I am deluded by visions of success. Perhaps the visions will become reality.
When you watch professional comedians they make it look very easy, like they've just got up and started talking and making people laugh. But it's like boxing. Watch pro boxers and they make it look easy too. Get in the ring and you then see how difficult it is. The dedication and consistent effort it takes. The mistakes you make over and over again until you learn that 1 per cent improvement that makes a tiny difference.
At least you don't get brain damaged in comedy. No more than what you may have started out with anyway.
I've learned about trying to make friends with an audience of strangers and to get them to like you and your jokes when they clearly don't want to.
I've been introduced on stage 47 times as 'a name that sounds like a wine'. If you pronounce it correctly it doesn't, you unoriginal twat.
I've learned that the failures in front of crowds make the eventual successes so much more beautiful.
I've learned to keep my head down and not worry about who is getting what gig. Sometimes, no matter how well you think you're doing, you won't get asked to do certain gigs
I've made friends, met people I'd prefer not to meet again, been on the bill with some really nice pro comedians, been to awful places I'd prefer not to visit again, been told by a drunk Irish lad I'm like an Asian Michael McIntyre, and have been pulled off gigs before my time is up.
How do I feel about 2014? Quite fucking positive.
• Sheraz Yousaf's website is here and he tweets here.
Published: 19 Dec 2013
What do you think?