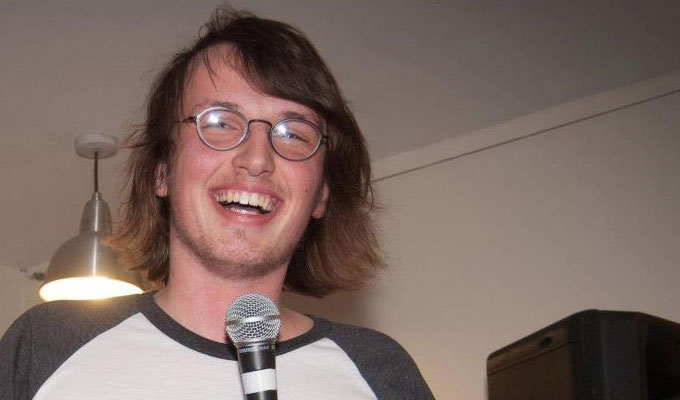 'You never have a bad gig when you're having fun.'
Having a great time while achieving little to no discernible success is an art. I've been doing it for just over three years as a comedian, and I can't recommend it highly enough. There's nothing I enjoy more in life than gigging and with these handy tips I hope you'll be able to have as good a time as me, regardless of your complete lack of success.
Some people occasionally lose enthusiasm in the face of crushing inadequacy and an empty diary, and sometimes even go as far as to quit comedy. This is a real shame and is easily avoided by making every gig a rapturous spectacle of self-satisfaction.
Obviously the dream for any comedian is to pay the bills with comedy and have a diary full of gigs but the stark reality is that this is not the case for about 90 per cent (don't quote me on that, I just chose a number that seemed right) of comics. When this is the case, the best you can do is have a wonderful time doing whatever you can. Only ever perform material you love and you'll approach the stage with giddy excitement that can't be dampened by underwhelming audience reaction.
If no one laughs at something you say, that's OK, comedy is subjective and you might get them next time round, shrug it off and move on to the next thing you'd like to say. Satisfy yourself first and the audience second and you'll be able to spend the rest of your life living the endlessly fun life of a happily unsuccessful comedian.
After a period of time you will see all sorts of comedians overtake you completely. You'll see them on a poster and think 'how has that happened? I was at their first gig like six months ago!' then you might get a bit indignant and start to dislike that person. You should avoid this annoyance whenever possible though because while they may be newer than you they are most likely in possession of a wide range of extra curricular skills that you never bothered with because you were so busy having a great time. Skills like networking, appearing professional, working hard, writing stuff down, being remotely prepared and other such boring methods of cheating.
Competitions are a great way for comedians to show their talents, build a career and have a great time but they should be approached carefully. Some people become overpowered by greed and ambition and do silly things like winning competitions, which then forces them to ride the wave of their success into a life as a professional comedian.
While this may appear to be a good career move it is in fact profoundly foolish, it leads to them saying things on social networks like 'Does someone want this gig? I have too many', 'I'm better than you' or 'suck my dick you plebs'.
In order to have a great time and get nowhere you must approach all competitions with an air of breezy nonchalance, do whatever material you want, maybe get a bit drunk in the heat of the moment and basically just treat the whole thing as a big fun party. In early rounds this is often enough to grant progression provided the material you chose to do was at least a bit funny and you didn't get drunk to the point of being sick in your mouth a bit. I did this once and it really hindered my performance. I was later granted a wildcard to the next round but it was a bold strategy to say the least and I wouldn't recommend it.
Ideally you want to reach the semi-final and bow out gracefully there, it's far enough through to not be a loss and you avoid all prospects of being talent scouted at the final. I myself have been in three major semi finals and I lost them all on purpose for this very reason.
Self-doubt is the arch-nemesis of having a great time but not succeeding. You'll start to think silly things like 'maybe I should prepare more instead of spending the entire build-up to the gig talking to my friends and making a joke out of how unprepared I am' or 'what if I just sat down and worked on my material more often'. These thoughts are poison to the mind of a fun-loving party comedian and should be stamped out immediately through socialising and shrugging.
It's hard to not succeed at all and keep self-doubt at bay but it can be done easily as long as you are in possession of just enough self-confidence. You have to know that you can be funny. Not necessarily that you are funny and not even that you are good at stand-up comedy but if you can have the self confidence to know that you are capable of being funny on occasion then that's all you need.
Not funny at a gig? That's OK, you're funny other times, go have a great time and don't worry about it. Someone on the internet thinks you're bad and should quit? That's OK, lots of people have thought that before, just remember that time you made people laugh once.
Look after that memory like you would your own baby and whenever you are faced with a resounding lack of laughter just remember your baby, smile and go have a great time in the secure knowledge that your baby is safe and sound and no amount of scowls can touch it.
Dying on stage can really hinder a great time but once again it can be overcome easily. All you have to do is have a really great time. I've always done this and occasionally I die on stage without even noticing. After about a year and a half on the circuit I was with some friends and one asked me if I had ever died on stage, I responded 'no'. At this point a chorus of voices chirped in with things like 'what about that time you spent eight minutes shouting at a pregnant woman?' or 'what about that time they turned the lights off while you were on stage?' and I realised all of a sudden, I'd died countless times. I just hadn't realised because I'd been having such a great time regardless. Always remember- you never have a bad gig when you're having fun.
Not succeeding whatsoever in a pursuit that consumes large amounts of your time can be quite financially taxing but money worries can be easily overcome by using your now trademark nonchalance.
Whenever you get a bill you can't pay just put it somewhere out of sight, pretend you didn't get it and go continue your great time. If your children can't eat because you've not made enough money gigging just remind them that you're having a really good time and their new-found knowledge of your inner satisfaction will satisfy their rumbling tummies.
And if you find yourself unable to afford a place to live you can just be homeless, those guys have the greatest time of all, drinking in the middle of the day, growing bitchin' beards; don't let their tears fool you, deep down they're having an absolute blinder. Join them, it's no biggie, you've got a gig soon and that'll be really fun.
So there it is, how to have a great time while getting nowhere in comedy. I hope you found this helpful, That my intention, but if you didn't, no worries, I had a great time writing it…
Published: 2 Dec 2013
What do you think?