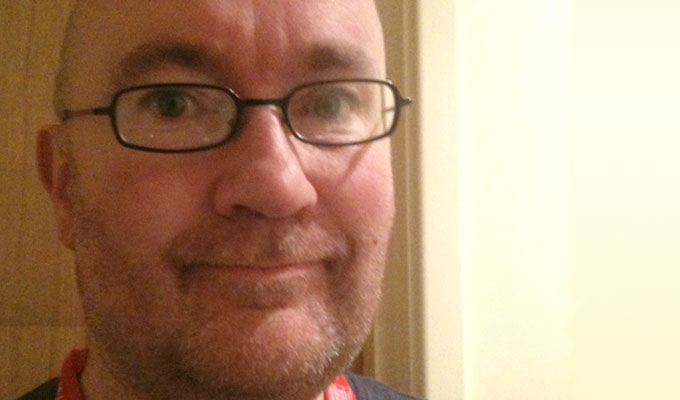 It's not easy being out on stage...
'Homosexuality still remains to some extent a taboo and therefore a basis–if not a target–for comedy,' wrote Tom Crawshaw on these pages last month. Yet, despite his obvious interest in the life and work of the late Graham Chapman (the subject of his play Not The Messiah), it's interesting to note that Crawshaw focused only on the 'playing on gay taboos' by straight male comedians.
'Where are the stand-up routines and the sketches poking fun at the casually accepted cultural view of homosexuality as effeminate or butch, transgressive, ridiculous or naughty?' he asked. Well, I'd have thought there would be at least one obvious place to look; in the acts by the small but hopefully growing – proportion of professional comedians in the UK who also happen to be gay.
Earlier this year, while researching an article for Gay Times, I spoke to several male gay comedians, including Craig Hill, David Morgan, Scott Agnew, Scott Capurro, Andrew Doyle and Charlie Ross. I also spoke with Tommy Sheppard of The Stand clubs and Nica Burns, producer of the Forster's Edinburgh Comedy Award, in order to get a longer-term, more business-orientated perspective on the issues.
Thankfully, from those conversations, it appears that we've certainly moved on from when the likes of Kenneth Williams, Larry Grayson and John Inman were allowed to camp it up on stage and screen but forbidden – culturally, if no longer legally – to be honest in public about their private lives. The rise of alternative comedy in the 1980s also, for the most part, consigned overtly homophobic jokes into the dustbin. Yet the more positive acceptance of LGBT people in general society that we now enjoy is still remarkably fresh, and is by no means as secure as we might hope.
Agnew and Ross, neither of whom physically or vocally fits the effeminate stereotype Crawshaw mentioned, pointed out that, even in 2013, they still regularly sense an almost physical change in their audiences, especially among the straight men, whenever they first mention their homosexual leanings. To a degree, both feel they're doing some good simply by challenging people's assumptions and, perhaps, showing some men what they're like when chatting up women.
Admittedly, both performers also revel in that shock value: Ross in particular misses it when it's not there, whether in gay-specific venues or (a positive sign) at student gigs – but the continued existence of that kind of response has consequences, especially for performers and promoters looking to make a viable living from comedy. I was told of one comedian who, as soon as he felt his audiences switching off, decided to stop mentioning gay sex or anything explicit and instead now pushes a camp, loveable sensibility.
In other words, any perceived lack of comedy 'poking fun at the casually accepted cultural view of homosexuality' may in part be down to gay performers and promoters wary of their paying audiences becoming 'gayed out'. Extend that to the wider media, and it's hardly a surprise that the gay comedians and presenters who we see most often on our television screens still tend to be the more fluffy, innocuous kind; quite sexless in a way, and not that different from those we had back in the 1970s.
All the comedians I talked with were adamant that their best comedy was grounded in their own experiences, and that it was therefore important to be honest with their audiences, not least about their sexuality. Morgan went as far as suggesting that, once he came out on stage, he 'got instantly better"' at comedy: "'I wasn't acting it any more.' Not even mentioning their orientation struck some of my interviewees as being a weird omission – and unhealthy self-censoring – that, of course, wouldn't even be an issue with any of their straight peers.
Yet, while none of the comedians I spoke to defined themselves by their sexuality, they also agreed with my suggestion that audiences and critics were more inclined to do so on their behalf. This is hardly surprising; after all, even in polite society, a man mentioning his boyfriend or husband will gain more attention about that fact than if he was talking about a girlfriend or wife.
'Gay comedy"' can be nothing more (or less) than comedy from a comedian who happens to be gay, but the differences can all too often be magnified at the expense of the commonalities between us. And it will take time to change; after all, we live in a culture where words like 'gay', 'female' and 'black' are still deemed necessary qualifiers to the default white, male and straight definition of a standup comedian.
And, of course, there's homophobia. All comedians can expect to be heckled, but outside of the big cities, a hatred that supposedly dares not speak its name can still be surprisingly vocal.
During the height of a fractious, and on occasions, malicious public debate on the Scottish Government's equal marriage proposals, Agnew experienced in-the-face homophobic abuse three times within six weeks – and not just during the small-town gigs that are his bread and butter.
That might be difficult to believe if you're based in London or some of the UK's largest cities, but out in Britain's towns and in its schools, people can be as openly homophobic as they were openly racist 30-40 years ago.
The gay men and women who aim to make us laugh – and do not wish to be fluffy and innocuous – are certainly pushing the envelope; but no one should think that what they're doing is easy or without risk.
• Paul F Cockburn is a freelance magazine journalist & copywriter, specialising in arts & culture, disability, and popular science. Website.
Published: 21 Nov 2013
What do you think?