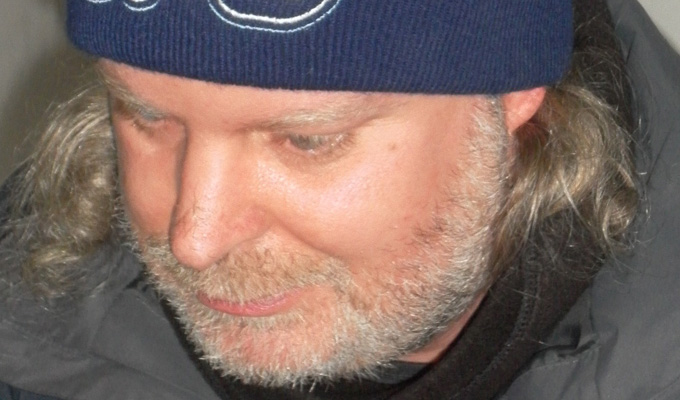 Leave the space monkey jokes to the pros!
As is now common knowledge, at half-time during Tuesday's World Cup qualifier against Poland, England manager Roy Hodgson told his players a joke about an astronaut and a monkey for which he has since apologised. Quite right. Not because the joke was offensive, but because it wasn't very good.
I'm not an expert on football. When I watch it I'm glad that broadcasters have taken to displaying the score in the corner of the screen at all times because my memory is so bad I forget what the score is. However, it seems that Roy Hodgson told the joke in order to make a tactical point to one player about how he wanted him to work with another player. Apparently professional footballers don't all chase the ball everywhere and do pass to each other. What I find baffling is why Roy Hodgson made the point in the way that he did.
He is the manager of the England football team at half time during the final group match in World Cup qualification, a match that England probably need to win to ensure automatic qualification. Tens of thousands of England fans are watching at Wembley and millions more are watching on TV, hoping England win. There are 15 minutes in which players may want to rest, take on fluids, get rid of fluids and get medical treatment. The manager wants to pass on tactical advice. He decides to do it using a long old joke about space exploration. It could have been worse: he could have tried to make the point by creating a piece of conceptual art using spare boots or by playing a game of charades with the team.
The joke may have worked because Steven Gerrard scored a goal in the second half and England won 2-0. (Sorry. I should have said 'Spoiler Alert!' in case anyone has recorded the match but hasn't had time to watch it or has recorded all the qualification matches and plans to binge-watch them like a box set of Breaking Bad.)
Two days later news of Roy's joke broke and as the day went on there were more reactions to the joke with some campaigners against racism in football calling for an investigation and some players and former players expressing support for Roy Hodgson.
I expect this story will rumble on for a few days or weeks or months or years or decades but I won't pay any more attention to it because I've already come to a conclusion about it. My conclusion is that comedy should be left to comedians.
Hodgson's joke about an astronaut and a monkey is the latest in a long line of jokes told by non-comedians which have backfired. Some of these non-comedians have come from the world of football. A few days earlier, ITV's football presenter Adrian Chiles apologised for a joke about Polish fans doing building work at his house. A few weeks ago Scottish football pundit Tam Cowan made some jokes about women's football and later apologised. Player-turned-pundit Rodney Marsh was fired by Sky Sports after he made a joke referring to the Asian tsunami. Manager-turned-pundit-turned-former pundit Ron Atkinson made a joke about burqas on Celebrity Big Brother which got him a formal warning from the show's producers. Alan Pardew compared a tackle to a rape. Brian Laws and Tony Cascarino have compared the defending of teams or players to the Holocaust. The most glaring omission from football's repertoire of hack comedy is a joke referring to Josef Fritzl. I could make one but it would be hack comedy.
People associated with other sports (such as John Inverdale, Sergio Garcia and Clare Balding) have made badly-judged jokes. Business people have made similar mistakes, the most famous being Gerald Ratner's joke about one of his products being 'total crap'. However, the most perilous profession for a wannabe comedian is politics.
In March 1987 the government minister Nicholas Ridley was talking about a bill being piloted through Parliament when he used the term 'he has not got his bow doors open' which was taken as a reference to the Herald of Free Enterprise ferry, which had capsized after it left Zeebrugge earlier that month with its bow doors open, killing 193 people.
In 2004 the former shadow minister Ann Winterton had the Conservative whip removed after telling a joke about the deaths of 23 Chinese cockle-pickers in Morecambe Bay. Given that she was sacked as a shadow minister in 2002 after telling a joke about an Englishman throwing a Pakistani man out of a train window because 'they are ten a penny in my country' you would have thought that she might have realised the dangers of telling Bernard Manning-esque jokes.
David Cameron telling Angela Eagle to 'Calm down, dear' in 2011 went down badly, as did his 2012 comment about facing Ed Balls in the Commons as being like 'like having someone with Tourette's sitting opposite you'. Last month Godfrey Bloom resigned from UKIP after the party whip was removed in the wake of his joke about women being 'sluts' which came a few months after a reference to foreign aid being sent to 'Bongo Bongo Land' (a term also used by former minister Alan Clark).
However, the leading contender for the worst political comedian of this year is Lord Dalmeny who doesn't hold a political office but raises money for the Conservative Party. At a fundraising event earlier this year he said this: 'Turn those horrible lights down. I feel like I am in Auschwitz.'
Later he apologised for the comment and said that he meant to say Colditz rather than Auschwitz and it was 'a horrific slip of the tongue'. He made the comment at an annual event which raises money for the Conservative Party which is called the Blackshirt Party. Sorry I meant to write Black and White Party and it was a horrific slip of the hands. It's harder than it looks, this comedy thing.
If you have read comedy news websites like this one or general news websites in recent years you will have found stories about people criticising comedians for telling jokes and about comedians apologising for telling controversial jokes. You may also have found people criticising comedians for telling particular jokes in order to create controversy or for just not being funny. If comedians are finding it difficult to create, tell and judge jokes no wonder non-comedians sometimes come a cropper when they try to tell jokes.
Despite the many attempts at jokes which have failed or backfired people from the fields of sport, business, politics and other non-comedic fields have kept trying to be comedians. Perhaps they should stop. Some people are funny. Some people are not. There's no shame in not being able to say or do anything which causes another human being to experience the joy of laughter. Just look at [INSERT NAME OF YOUR LEAST FAVOURITE COMEDIAN HERE].
Perhaps we should view jokes in the same way that we view fireworks. Jokes can be enjoyable but they can also be dangerous and can hurt people, they sometimes don't work in the way you expect them to and sometimes if badly handled they can hurt the people using them so the best way to enjoy jokes is at an event organised by experts.
If you don't like the fireworks analogy compare jokes with firearms. If you don't like that analogy compare jokes with weapons of war, ranging from bayonets to weapons of mass destruction. For example, after this year's Nobel Peace Prize was awarded to the Organisation for the Prohibition of Chemical Weapons, Syrian President Bashar al-Assad reportedly joked to a Lebanese newspaper: 'That prize should have been given to me.'
Perhaps next month at a gig at the Damascus Apollo he'll tell his fans that in the last two and a half years 100,000 Syrians have died laughing. That's not a joke: that's a prediction. Or maybe it is a joke. Who knows? A comedian?
Published: 18 Oct 2013
What do you think?