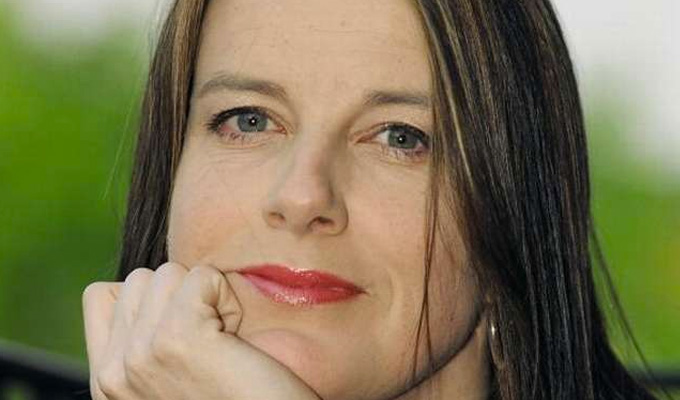 Karen Bayley
Petfringe Comedian Of The Year
Note: This review is from 2018
It's the biggest prize in comedy – by a whole £1 – but the hurdles to winning the Comedian Of The Year competition run by the Petfringe festival at the small Sussex town of Petworth are decidedly lower than the intense month-long marathon of the Edinburgh Fringe.
No wonder that some of the circuit's most established names were drawn to the contest; the chance of winning a life-changing £10,001 after a single heat and a final is just too tempting. As, too, may be the emphasis on pleasing crowds at comedy clubs rather than the industry cognoscenti.
For most such comics, it would be a new, or long-dormant, experience to be judged on a tight set. While most newcomers are used to honing their perfect few minutes for maximum effectiveness, here the decision is what to leave out of 20-minute or longer club sets.
So maybe that's why the purse went to the least experienced act on the bill, the deadpan and offbeat Simon Lomas, no stranger to new act competitions. And, noticeably, also the most distinctive of all the finalists. It's almost as if creativity and popularity aren't mutually exclusive…
Were he in the habit of doing 20 minutes in the clubs, he might have softened his shtick of delivering his set sans eye contact, self-consciously staring up into the lights so as to avoid the audience gaze, lest it begin to wane. There are already indications he's making slight variations to the precise way his delivery is disconnected: sometimes he now reads his gags from a notepad instead.
While his distant delivery doesn't give jokes a crest of bonhomie to ride, it instead leads to pregnant pauses that the audience fill with titters of anticipation, their own nervous reaction to the awkwardness Lomas fosters. And most of his punchlines are more than peculiar and unpredictable enough to thrive in the arid delivery, ranging in tone from the dark to the whimsical, as he turns thoughts and phrases on their head.
The contest may not have specifically been looking for 'promise', but they found it anyway, in a comic just three years into his career.
Tonight had started with Luke Toulson, so much longer in the tooth that he had been a Perrier best newcomer nominee back when Edinburgh's top prize was still called that (his double act losing out to some nobody called Tim Minchin).
He might have suffered the curse of being first on the bill, as his cynical set, proclaiming his lack of parental empathy at every turn, offered plenty of blunt attitude and sardonic jokes that might have deserved a place on the metaphorical rostrum (not that anybody other than No.1 received any cash reward).
As well as raining on his daughter's dreams, and brutally picking favourites among his offspring, Toulson offered some topical opinion on the World Cup, and offered an entertaining take on his visit to the fertility clinic, exploring every indignity.
He was followed by Tom Glover, a well-established comedian if little known outside his native South-West England, where he's a regular compere. And he certainly has the natural affability that job usually requires, proving a firm audience favourite.
His material wasn't always that adventurous, however, mocking the 'tattooed toothless skinheads' who take advantage of The Sun's £9.50 holidays in his seaside hometown, or discussing dating in a small community, the punchlines of which are pretty predictable. He, too, ran with the theme of being cruel to children, while at the other end of the age spectrum, he expressed some disgust for pensioners having sex. Judgemental, yes, but delivered with more mischief than meanness.
Alistair Williams wasn't afraid of sticking to stereotypes, either, especially when it came to his portrayal Australia as a place full of sharks and with a cultural dearth that surely means it has no need of an opera house, something of an old idea.
He projects the vibe of being something of a lad, but is self-deprecating when it comes to his useless history degree, or in happily being the beta-partner in the days when he dated an undefeated MMA champion. There are a couple of great lines in his set, even if it lacked a killer edge – and judges ultimately awarded him the bronze.
After Lomas, Charmian Hughes's persona mixing between jolly-hockey-sticks enthusiasm with older woman battiness chimed with this white middle-class audience. Miriam Margolyes could probably play her in a film.
Harking back to her parents' time, the 62-year-old evokes a more naive past, when orgasms were spoken of only in euphemism, and recalling that the Swinging Sixties gave her suburban town a bypass. These days, she's rarely far from a knowing, if relatively gentle, reference to sex in her routine, including her Franglais song, performed with accordion accompaniment. It's a quietly quirky set, perhaps not with as many big laughs as some others, but enjoyably eccentric.
Karen Bayley proclaims herself 'a bit saucy' and tries to get the audience to share some of their bedroom secrets – though finds some reluctance to her prying questioning. But the chatty banter reinforces the image of a no-nonsense Brummie describing the sometimes less edifying parts of life with no airs and graces.
She also pours buckets of cheeky scorn on many of the people she's encountered, often in her long career in comedy clubs: from the drunk women in the audience to one male comic's awful attempt at a backhanded compliment. It's not the tightest set of the night, more about tell-it-like-it-is sentiments that grand punchlines, but certainly proved entertaining.
Where Bayley positions herself as the audience's friend, Nick Page cannot disguise his contempt for them. Arrogance and aloofness are his watchwords. The world may be turning to shit but he's sure he'll be all right, that's his attitude. After all he's got some great possessions, which he describes in great detail.
Page's routines are declamatory, rather than conversational, built up on such minutiae. He has his pieces to say and will proclaim them, even as he subverts that style by having no more truck with politics beyond a local council planning battle he's clearly very bitter about. Again it struck a cord with this middle England audience… but not as much as his rant against cyclists, which became almost a rally.
Recently seen on Britain's Got Talent, Page earned second place on the night… but also gave an encore of sorts later, bailing out compere and competition organiser Andy Stedman, whose plan to banter with the audience while judges deliberated hit a brick wall.
Mark Simmons was probably unlucky not to have got himself a place in the top three, with his fine selection of one-liners, from 'groaners' to 'thinkers', but always original. An early heckle from a woman emboldened by previous exchanges with Bayley and Page almost knocked him off his stride, but he soon recovered.
Aside from being slightly offbeat, Simmons is not wedded to any persona or point of view; this is a succession of mostly short, inventive gags, with the world reset after each one. He has a couple of devices to break the list up, such as his allegedly 'unfinished' jokes… but effectively this is the stand-up equivalent of a brilliantly pithy Twitter feed. Some of the longer jokes feel like they are losing their way, but it's just delayed gratification for the punchline.
Finally, Tim Clark - the most experienced comic on the bill and a stalwart of the Comedy Store - but also one of the least interesting, starting by mocking a punter's perfectly normal shirt: 'What a contraceptive!'
Jokes about the likes of Friends Reunited and how you 'can't smoke anywhere now' feel dated, and a clue to how old some of this material is comes when he mimics his young children asking irritating questions… then reveals they are now in their 20s. And there's a bit about the kitchen drawer of assorted crap that is a poor second to Michael McIntyre's signature bit on the same. Though I couldn't say whose came first, certainly one is the more famous.
No one can deny Clark's craftsmanship in performance after 30 years on the circuit, his writing - even material that is more contemporary – does little to excite.
Still, a mix of old-timers and relative rookies makes the Petfringe competition like few others. And with the anonymous donor pledging to maintain the mega-prize until 2020, it's likely to be hard fought for a couple more years at least.
Read More
Published: 9 Jul 2018
This double bill of Brummies (well, West Brom and Wolverhampton)…
1/01/2004
During her routine, brassy Brummie comic Karen Bayley…
28/07/2003
Past Shows
Agent
We do not currently hold contact details for Karen Bayley's agent. If you are a comic or agent wanting your details to appear on Chortle, click here.