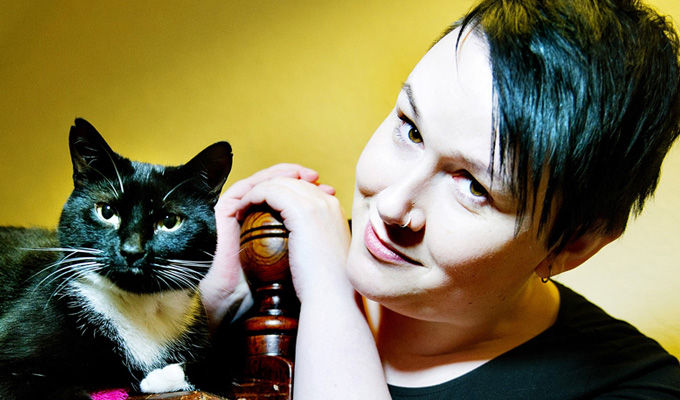 Bethany Black
Bethany Black: Unwinnable
Bethany Black covers an awful lot of ground in this her fourth Edinburgh show, Unwinnable. From incels to her OCD diagnosis, watching porn with your partner to structural racism, the Manchester bomb attack, Terfs, her Morris-dancing dad … it's quite the set list.
Black is a pro, so you can barely detect even the slightest hint of a seam, but as an hour it feels like a whole lot of snacking rather than a proper meal. I'd really like to see Black get her teeth into a subject, rather than stitch together bits of set. The writing is good though, occasionally excellent. A couple of real zingers – like the one that debunks the 'basic biology' anti-trans argument – show how good a joke-writer can be, even if she doesn't sustain it for a full hour.
The most dominant theme is Black's OCD, autism and agoraphobia, all of which she has been diagnosed within the past year. This seems to have helped her understand herself – she finds it difficult to be around people, to interact, and that's part of the reason she enjoys doing comedy.
The flipside to this is how people are with her too, the misunderstandings and assumptions other people make because they are fixating on her autism or homosexuality. Not that she ever portrays people badly in these situations, she always tell these anecdotes with the intention of making a joke, not making an enemy.
It's deeply personal stuff, and she loads it up with funnies, as you might expect from someone who's toned her comedy muscles in the clubs. But the flighty nature of the show means that some things go unfortunately unexplored, like her explorations into whether she as a white person is racist by default, or this year's Pride march, where she feels outcast and welcome at the same time. She blames the Terfs – what critics derisively call 'trans-exclusionary reactionary feminists' – and the subsequent backlash against them. This whole experience is crunched down to only a brief segment when it sounded like a whole story in itself, although I can understand how it would be difficult to make funny. Oh and I definitely want to hear more about her Morris-dancing dad.
Elsewhere there were some great gags about her leopard-print shoes, buying a car as a lesbian couple, and one on her sex life which paints quite a remarkable picture.
Over the 15 or so years Black has been performing comedy, she's nailed how to hold a room, write a joke and tell a story. Unwinnable showcases all these talents quite clearly, but it lacks consistency and something to hold it all together.
Read More
Published: 15 Aug 2018
From the set of Doctor Who to the tiny Stand 2 in front…
14/08/2016
Bethany Black returns to the Fringe with another confessional…
24/08/2009
How's this for a twist on the ubiquitous dick jokes?…
1/01/2008
Now here's a phrase you won't hear that often.…
25/10/2006
It's often easy to dismiss large, lively audiences;…
25/10/2006
Past Shows
Agent
We do not currently hold contact details for Bethany Black's agent. If you are a comic or agent wanting your details to appear on Chortle, click here.