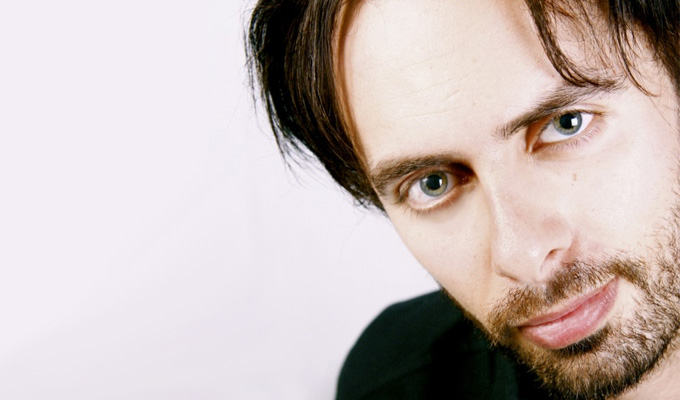 Alexis Dubus
MICF - Alexis Dubus Verses The World
In other festivals, Alexis Dubus has placed this poetry anthology into the spoken word category, arguing inviolably that unlike the subjectivity of comedy there can be no debate that what he is doing is, indeed, speaking words.
Yet there is no doubt that these verses, inspired by his global travels as a touring comedian, boast a smart, wry wit of the type that has also made his Gallic alter-ego Marcel Lucont such a festival favourite.
However, there is none of the fictional Frenchman's arrogance here. As himself, Dubus maintains the same quiet, subdued poise on stage, but he's slightly more playful with the dynamic. And in his stories he often plays low-status, not least when describing a decidedly down-at-heel hostel he was forced to endure in Perth. Meanwhile, the poem To Be A Comic reveals the realities of his life, far from showbusiness glamour.
A variety of styles is brought to bear on his work, with some verses set to music. The pedant's poem Things You Didn't Need To Say, is delivered in such an authentic old-fashioned revue style that you might think it came from Bernard Cribbins' back catalogue. The self-explanatory Never Never Confuse Shampoo With Champagne is sung as if he's in the Rat Pack, while another, about a gassy masseuse, evokes Noel Coward.
The selection-pack approach – which also encompasses short sections of stand-up, underplayed prop work and one wryly elaborate costume change – highlights the fact that some sections work better than others. But the tone is consistent, of a man of guile enjoying the crafty manipulation of the English language to spin an engaging yarn.
Quietly playful Dubus likes a pun, some elegant some strained. He also seems to enjoy holding his audience in a state of slight uncertainty, not quite sure if an anecdote has a point, or wondering why the number that sounded like a showstopper wasn't the end.
But Dubus's nimble wordsmithery makes that state of gentle bewilderment a thoroughly pleasant place to be.
Read More
Published: 16 Apr 2018
Marcel Lucont is probably not what you would call a…
25/04/2017
Alexis Dubus is best known for his French alter-ego…
1/01/2015
Alexis Dubus has got a lot of mileage (kilometreage?)…
23/08/2012
What's that on Alexis Dubus's sleeve? Oh yes, it's…
10/08/2012
In Sexual Metro Alexis Dubus valiantly attempts to…
17/08/2009
Swearing: it is big and it is clever, and in the capable…
1/01/2008
Although this relative newbie's set is still rough…
4/02/2003
Products
Past Shows
Agent
We do not currently hold contact details for Alexis Dubus's agent. If you are a comic or agent wanting your details to appear on Chortle, click here.