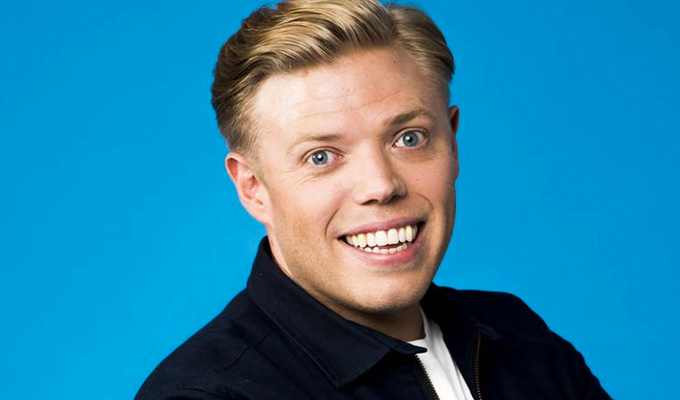 Rob Beckett: A Class Act
You can thank Covid for every comedian deciding they had a book in them once they were stuck at home, but Rob Beckett has delved deeper that knocking out a passable celebrity memoir by touching on matters of class and mental health that you might not expect.
He is, after all, the perennial cheeky-chappy geezer, flashing those monolithic teeth and having a laugh through life. He's not a comic prone to introspective Edinburgh Fringe shows examining the human condition nor, on the face of it, particularly politicised by the class divide.
Yet that is what looks large in A Class Act, which considers how his place in the system has affected every part of his life, and ponders where he sits now. With his South London mates he's the lah-di-dah media type, the only one in the pub not wearing high-viz. Yet in showbiz circles he's the bit of rough: in an hilarious tale here he tells of turning up at Jimmy Carr's swanky showbiz house party with a bunch of cans he bought from the office on the way over.
Married firmly into the middle-class he wonders where his children might fit in. Yet his discussion of class issues go deeper than whether you'd prefer couscous or chips with your dinner (or tea).
Whereas privilege instils a confidence, being working-class is being told you'll never amount to much – as one casually cruel teacher actually told him - leading to a constant imposter syndrome now he has made it.
At his first Edinburgh festival, he describes himself as 'a desperate full-kit wanker wanting to be a comedian, but with no guidance or advice on how to go about it' compared to all the uni kids who to his eyes had ready-made connections and deep financial support. Given the battering his confidence in academic ability took, there's much incredulity, mixed with pride, that he has been asked to write a book at all.
Then there are more practical obstacles from his background. When he won a trip to the Adelaide Fringe he was holed up in a miserable hostel with no money to do anything but gig, until he was rescued from the jaws of depression by the kindness of strangers.
Yet there are more dimensions of class than that, and he acknowledges its place in forging his sense of humour, and sings the benefits of the all-in-it-together, struggling-to-get-by community when everyone's swapping favours. And being told he couldn't make it gave him a drive that propelled him to the top of comedy. He was driven by what he terms a 'poverty mindset' – the constant feeling that everything he achieved could vanish in an instant – so he would take every job going, trying to work harder than everyone else.
That continued even after he achieved clear success, maintaining a gruelling work schedule driven by anxiety. This drove him to burnout and despair, even when it appeared he had everything, and he had a dark episode when working in South Africa, on what should have been
That he can write honestly and unpretentiously about this might, you hope, give other blokes pause to think that mental wellbeing is worth talking about, beyond the banter of the usual male relationships. And although Beckett knows he has a bulletproof confidence on stage on TV (that's not true in real life.
If all this sounds a bit weighty, Beckett has an easy, bantery writing style and the book boasts its share of amusing and entertaining anecdotes. It occasionally slips into stand-up material as he muses on the likes of child car seats, which can feel crowbarred in, but it helps balance the tone towards the lighter side.
• A Class Act by Rob Beckett has been published by HarperCollins, with an rrp of £20. It is available from Amazon for £10.
• The Chortle Comedy Book Festival takes places in London on November 27-29. Full details.
Published: 2 Nov 2021
What do you think?