Christina Adams: Semi Rural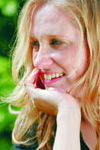 Show type: Melbourne 2007
Christina's moved from the inner city to the Peninsula, swapping the sounds of traffic for the sounds of roosters and farm machinery.
Neighbours find her a curiosity and Dr Harry comes to visit. Join Christina as she reflects on her seachange and why she does like to be beside the seaside.
Comedians
Reviews
Original Review:
Your enjoyment of Semi Rural will almost certainly depend on your attitude to animals. A city teacher, Christina Adams upped sticks and moved an hour or so out of town, to a place with enough land for a farmyard menagerie of chickens, goats, fish, a horse, dogs and many more – the exploits of which she can now describe in cloying cuteness.
She is not interested the real world of nature, red in tooth or claw, nor the sometimes harsh realities of life on a real farm, but instead pursues a bucolic idyll, as written by Enid Blyton, where the animals are your friends you can live with in harmony. Adams thus introduces us to her new family by name, sweetly pegging cut-out pictures of each around the stage.
If you thought The Good Life was too gritty, this is for you. For my part, I was wishing she would just hurry up and eat the damn animals. And I'm a vegetarian.
But if you like your comedy gentle, there is much to admire in Adams's approach. She has a strong storytelling manner, rich in details to effectively convey her life in the countryside – even if it can feel as if she's reading an essay aloud, with every adjective and pause perfectly placed, rather than adopting a real, messier conversational style.
She also has a decent line in characterisation, adapting her normal nasal delivery to convey such personalities as the ageing, horse-fancying neighbour.
The monologue has a sturdy structure, too, using the visit of a real-life TV vet as a dramatic device to bring the threads together and push forward a story, making this slightly more than the otherwise flimsy premise of simply describing her new lifestyle choice would initially suggest.
However, the hour still offers the mildest of comedy, with nothing to scare the horses; but then nothing to really set your world alight either.
Reviewed by: Steve Bennett
Melbourne, April 2007
Comments
Show Dates