Laurence and Gus: A History of the World in 5 12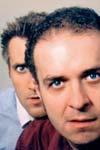 Show type: Edinburgh Fringe 2003
From the writers of Dead Ringers and Alistair McGowan's Big Impression comes a strange and beautiful new sketch show.
Comedians
Reviews
Original Review:
Five and a half sketches in an hour? That works out at just under 11 minutes each. More like comic playlets than sketches.
And therein lies a problem: an idea has to be pretty damn funny or poignant to sustain such an extended slot. So while Laurence Howarth and Gus Brown have been brilliantly inventive in setting up their scenarios, the ensuing stories are pretty slim.
Take the tale of the proud courtier inside Peter The Great's palace, devoted to his work and relentless in his search for perfection as... the official tea-maker. A nice enough character, wonderfully played, he begins to fret about being usurped by a radical young rival from the country.
You get the picture pretty quickly, after which you're strung along for what seems like an eternity until the sketch reaches its illogical conclusion.
There are deliciously quirky lines along the way, the set-ups are inspired and the performances engaging, but the pace is just too sluggish to make the most of everything the pieces have going for them.
The nicest idea is probably the one exploring the awkward father-son relationship; but in a classic about-face ploy, they are happy to talk about love and emotions, but choke up whenever they have to talk about football. The weakest is a man obsessing about the size of his cock.
Another goodie is the relationship between stand-up comic and a humourless eccentric (presumably representing all comedy audiences everywhere), in which the initial joy of laughter subsides as the comedian becomes more observational and bitter and less a gag-orientated clown.
In one exchange, they discuss the difference between wry comedy and that which is 'a blast'. This overlong show is most definitely the former and, like the washed-up comic, ultimately outlives its initial funniness.
Comments
Older Comments
Show Dates