Richard Morton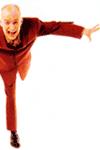 Show type: Edinburgh Fringe 2001
Since performing his sell-out show in '98, festival favourite, Richard has got married, become a dad, bought a flat, and pased his driving test fourth time. So forget about new material. Just kidding. He passed first time.
Comedians
Reviews
Original Review:
This very energetic comedian animates the stage from the moment he walks on, an instantly likeable chap with a warm and genuinely endearing approach.
With his cheeky image, Morton hops about like a hyperactive child with a new game, and indeed a lot of his material does stem from childhood experiences.

His songs are very near the knuckle and apologies are profuse before, during and after, which makes you feel that you are being very naughty just listening to them.
Yes, he does trot out some of the old favourites, such as parent-child role reversal, and doggedly sticks to his joke, joke, song, joke format, but new lyrics and topical material are very much evident throughout.
It a joy to see that a stalwart like Morton has not become complacent, but has instead spent time and effort on maintaining a fresh and tight set, delivered with relish.

Morton is very risqué in parts, yet has the knack of leaving the audience with a sense of good wholesome fun.
And although probably not everybody's cup of tea, here is a talented entertainer who clearly excels at his craft.
Comments
Show Dates