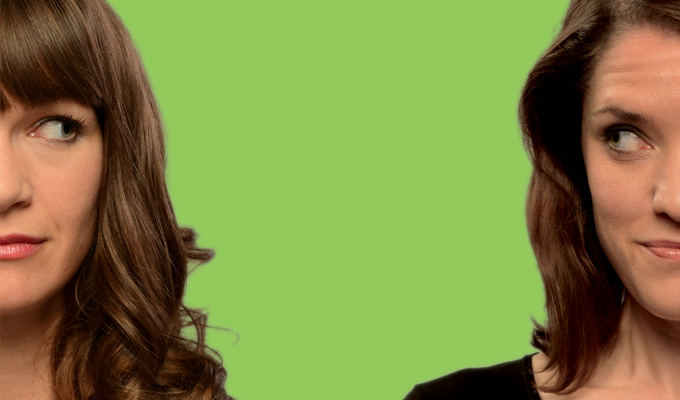 Croft & Pearce Are Not Themselves
Croft & Pearce may not be themselves, but it doesn't feel like they are too far from some of their creations, in a sketch show predominantly based around the twin strands of chichi middle-class pretensions and the repetitive irritations of office life.
Their best creations are probably June and Jean, well-to-do village people forever on the verge of both social and actual suicide for a variety of first-world problems – like being forced to shop at Aldi. The punchlines are broad, but the characterisations convincing, acted with a well-judged balance of subtlety and comic exaggeration.
Similarly, the ill-matched couple sleepwalking into a marriage has an engrossing texture, with an unstated conflict between wanting an easy life, playing out as expected, and dreams of something more.
Sometimes the nuances stand aside as Hannah Croft and Fiona Pearce play much broader, such as the offensive Geordie Brown Owl, scathingly cruel about the young Brownies in her care, another hit.
But there are also misfires. The office junior who keeps singing showtunes is just annoying – as she's intended to be – but grates even more with every reappearance. And 'Goliath', who runs a mail-order pet supply business, is just a litany of critter-induced injuries. The scars may be deep but the characterisation – uncharacteristically – isn't.
Meanwhile, the married-couple bakers who are all sweetness and light in front of customers but viciously at each others throats is the very same joke as Father Ted's shopkeepers John and Mary.
Links between Croft & Pearce's creations emerge as the show goes on. Sometimes these work towards creating a coherent world – you could certainly see those bakers in the same village as the image-conscious June and Joan – but others seem like cheaper callbacks, flimsier attempts at structure.
It's symptomatic of the feeling that this double-act – who had a Radio 4 series last year – hasn't quite got a strong enough or distinctive enough comic personality. There are certainly no trademark sensibilities that would help identify something as an unmistakable Croft & Pearce scene that another couple of equally talented performers (and they are that) couldn't also pull off.
They are at the best in the comedy-drama sphere of convincing, rounded creations with more to them than punchlines: scenes that provide a more rewarding watch, but with fewer laughs. Larger-than-life characters - Brown Owl aside – seem to fall a shorter.
It'd be interesting to see them go the whole hog and have properly interacting scenes, rather than tenuously linked ones, in something more narrative-driven, as that seems their forte.
• Croft & Pearce Are Not Themselves is at the Museum Of Comedy until Saturday, with forthcoming dates in Poole, Blackburn, Leeds, Hemel Hempstead and Amersham
Review date: 17 May 2017
Reviewed by:
Recent Reviews
What do you think?