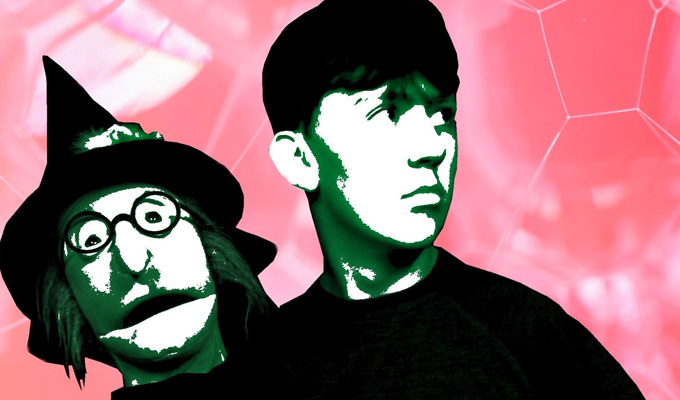 Lachlan Werner: Belly Talk (A Language of Love)
You can't fault Lachlan Werner's ambition to elevate his ventriloquist act into a more theatrical experience. But many of this young performer's attempts are misguided, not least because of a flabby, and frequently dull script that can't be disguised with clever presentation.
His shortcomings are never more apparent than in the bookend scenes, in which two supporting actors (Connor Mcgee and Chloe Wilson) dart around the stage in demonic cabaret get-up to pretentious pronouncements about the nature of love. It's almost a parody of taking-itself-too-seriously performance art, were it not actually taking itself too seriously.
The foreboding 'what have we let ourselves in for' feeling subsides, however, when Uncle Alfie, a lovingly-made caricature of an ageing Deep South straw-chewing yokel, appears at the door to the venue.
He's a broad caricature, as ventriloquist creations tend to be, but fetching in the way he's realised. While even on a budget Werner atmospherically evokes the 'dust-laden deserts' of Alabama so convincingly you might be willing to overlook the fact that Alabama doesn't actually have any deserts.
Werner's technical skills are without question, but Uncle Alfie's occasionally philosophical musings don't amount to much, and extend for a mighty long time. That's common complaint in this 20-minute set that he's dragged out to an hour.
Ditto with his other creation, a 96-year-old witch called Brew, introduced with a song – 'I'm here to heal, so give me your money' – that sums up the part-mystic part-charlatan lifestyle guru.
But the audience interaction is clumsy. A scene with a tarot deck is rambling and unfocussed, not properly taking into account the 'volunteer's' responses, and the trick in which another audience victim his given a mask to go over their own mouth so the ventriloquist can work them like a dummy – a gimmick most popularised by Paul Zerdin and Nina Conti – goes on well past the point where the joke runs out.
Speaking of Conti, Werner has adopted too many of her mannerisms – although when he laughs in mock-outrage at his characters' more risqué comments, apologising for them with a giggle, it's not so endearing. Especially as he otherwise looks a little uncomfortable on stage, rigid in his buttoned-up shirt and crushed velvet suit.
Along with some old tricks come some old gags, some that could even have come out of a joke book, making the hour seem even more sluggish. It's a shame as Werner has a clear talent for his craft, including some nifty voice-throwing to represent a politically-correct heckler. But if only he'd find new things to do, not over-complicated ways of presenting the same old thing.
Review date: 12 May 2017
Reviewed by:
Recent Reviews
What do you think?