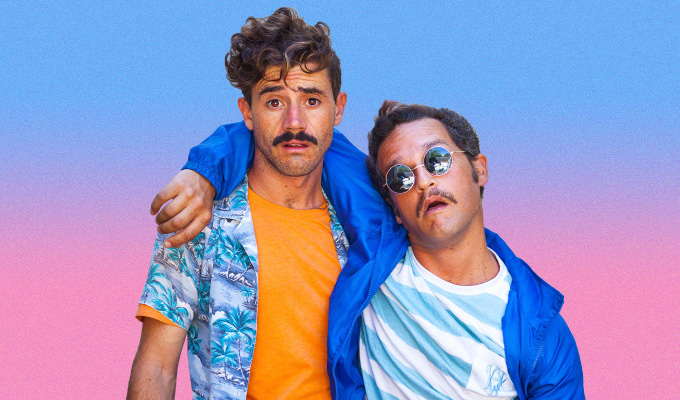 Barnie Duncan & Dani Cabs: Weekend at Barnie's
Poor Barnie Duncan, suffering so many indignities for his art, as he's brutally manhandled across the stage and into the audience – yet for relatively little reward.
Weekend At Barnie's is not just a punny title, it signifies the unique idea at the heart of this Knockabout comedy. Well, unique for a live show. Taking their cue from a certain movie, Duncan and Dani Cabs start from the idea that one half of a double act has popped his clogs, and the second must manipulate the corpse to convince the audience that there's life in the old comic yet.
Funny idea, right? And there are certainly some good visual gags here, amplified by a great performance from Duncan, even if the role of 'cadaver' doesn't immediately seem so promising. That he must remain immobile through myriad humiliations, including placing himself literally in the untrained hands of the audience, proves pretty demanding and undeniably brave.
The problem is making this excellent premise sustain a full show, not just a sketch, and it proves to be an insurmountable one. Even just under 45 minutes ends up feeling like a long time as the pair quickly run out of options.
Slapstick with the indignities heaped on long-suffering Duncan – who is creating a lot more waves this festival for his office-set collaboration with Trygve Wakenshaw, Different Party – is half the show.
The other is told in flashback, and reverse chronology at that, as we learn how Cabs first encountered the wealthy comedy legend that is Barnie Topaz (Duncan) lazing in his mansion's pool – here represented by a cheap Splash & Play paddling pool.
Again this set-up delivers a handful of imaginative moments of slightly gross silliness – thanks to more awful experiences for Duncan – but they are exhausted all too soon.
Weekend At Barnie's might give a new meaning to the notion of corpsing on stage, but they can't find enough life after death to make this a must-see
Review date: 21 Apr 2017
Reviewed by:
What do you think?