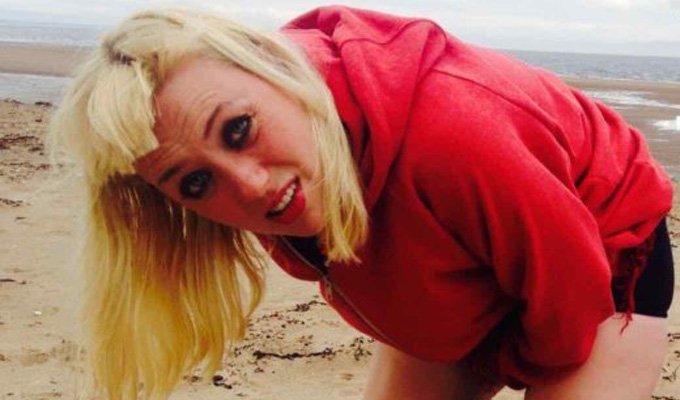 Rachel Jackson: Force Of Nature
Rachel Jackson's persona of a jilted, unblinkingly intense psychopath, frustrated in love and her acting ambitions, has been potent enough to land her a short-form BBC Three series, Bunny Boiler.
But it's currently too unsubtle a characterisation to sustain a 50-minute live show, with Force of Nature a curate's egg of compelling performance but underwritten jokes.
Her tales of London drama school training are niche and reveal an unsurprisingly pretentious world. But there's a spiky authenticity in the way she relates how her Scottish accent was shunned by the RP tones around her and her comedic inclinations were cast asunder in favour of a series of dead-end, Keira Knightley-type castings.
However, while these believably inform her simmering resentment, they're only shared in the final third of the show, after an introduction that's altogether more cartoonish.
Jackson announces in her opening breath that 'the BBC fucked me over' – a bold gambit that she can't satisfyingly follow up. Suggesting she had an affair with Davie, a married, once powerful man, and that the corporation made a documentary about it, she's belatedly realised that they've stitched her up to imply she's delusional.
Wild-eyed and furious, the gag, of course, is that she's clearly deceiving herself, as the paper-thin disguise of the famous 'Davie' is soon revealed in testimony that's dated with pig fetish references. In a curious, dual-level delivery, the character herself seems to know that she might be unhinged but must stick to the fiction as justification for sharing it on stage.
Picking such a famous target and repeatedly denying that she killed his cat transports her into the realm of caricature. But the archetype undermines the emotional truth of her subsequent tales about drama school, failures in online dating and more distinctive personality quirks, such as her attraction to dentists.
Jackson's greatest strength in her relatively short comedy career has been blurring the distinctions between herself and the on-stage character, so you grow unsure where one begins and the other ends. At times, she's terrifying and you can't take your eyes off her, yet she's winning and witty when chiding the crowd for not responding to her questions.
It's a character that requires the audience to get invested but she makes that difficult by over-blowing her fantasies. As a loveless, struggling and misguided actor she's credible. But as a self-declared celebrity supposedly sleeping with the rich and powerful, she's a one-note creation.
A manic dance number to Lady Gaga's Telephone and overwrought rendition of The Little Mermaid's Part Of Your World win applause where many of her lines fall flat. These only reinforce the impression that Jackson is a capable comic actor but needs to work harder on her writing.
Review date: 16 Mar 2017
Reviewed by: Steve Bennett
What do you think?