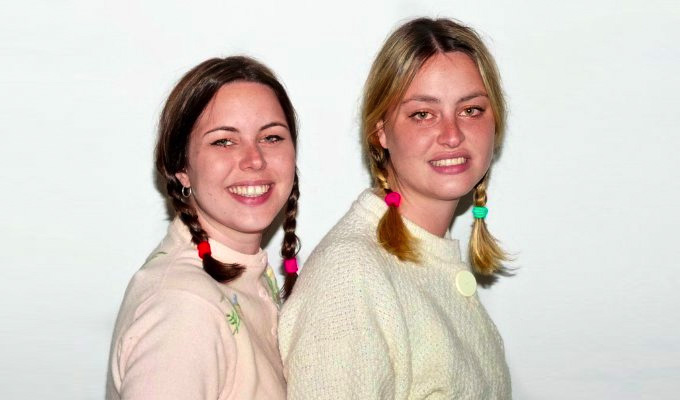 Waxing lyrical
Few new comedy duos could expect a 2,000-word feature in The Times to promote their Edinburgh debut.
But the newspaper has lavished such attention on Siblings today, and for one simple reason: they are the daughters of Rub Wax.
And the father of Maddy and Marina Bye is veteran comedy director Ed Bye, whose credits include Red Dwarf, Bottom, Ab Fab and Vicious.
With such family connections, it's perhaps no surprise that the duo have been endorsed by Miranda Hart, Dawn French and Jennifer Saunders – whose own daughter Beattie Edmondson is also a Fringe regular.
Both graduates of the £21,000-a-year Harrodian school in South-West London, the pair have also had plenty of training in the performing arts.
Maddy, 26, attended the famous Philippe Gaulier clown school in Paris, after being encouraged to go by her godfather – one Alan Rickman.
'He was a genius, so funny,' Maddy said. 'Any advice he had to give me I would just take it so quickly. So, two days later I quit my job and went to clown school.'
Meanwhile, Marina, 23, went to the Guildhall School of Music and Drama in London.
The sisters – who live together in a flat in Notting Hill, West London – say their parents regularly come to their shows.
'Even if she doesn't know the lines, Mum will mouth them with us,' Marina said, adding. 'That's why we have the confidence we do: we have such a supportive family.'
The sisters are not the only offspring of a well-known comic making their debut at the Fringe, nor the only performers whose father has a Red Dwarf connection.
For while Siblings play the Gilded Balloon, Norman Lovett's daughter, Lily, will be bringing her one-woman sketch show to Laughing Horse @ Espionage.
Published: 17 Jul 2017
Recent Punching Up
What do you think?