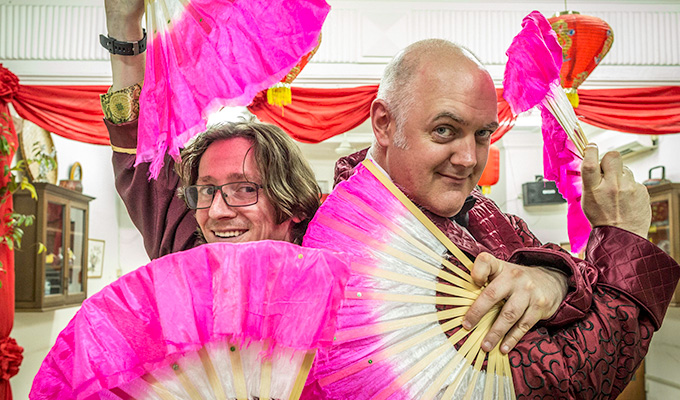 Ed Byrne: I could have been decapitated
Ed Byrne says he could have died while filming his latest travelogue.
He toured South East Asia for The Road To Mandalay with Dara O Briain – and said he could have been decapitated when he had an accident trying to row a traditional Burmese boat.
He ended up in the 'filthy' water, but said it could have ended up so much worse.
'It was pretty scary when I fell in the filthy water when I was learning to leg row in Myanmar,' he told the Mirror.
'They have these little fishing boats and you can paddle them like that but the proper technique is with the long oar and it's a tricky thing… We were completely useless.
'I had a guy who basically saved my life. We were doing this leg rowing and I ended up looking at my feet and my boat clashed into another. This guy grabbed me and pulled me out of the way, otherwise the pole would have hit my head and could have potentially ­decapitated me, or at the very least knocked me out – so I owe that man a big thank you.'
Byrne also got a gloomy prediction when he met a fortune teller in Malaysia, who rolled the dice to reveal: 'This is you and you will find no place for work or rest'.
In a separate interview with The Sun O Briain reveals that they discovered Malaysia was 'starting to get a comedy industry, so we went to a comedy club where they recently got their first gay comic and first female comic. We asked them about Malay humour but they said it isn't a thing, because Malaysia is three or four communities which don't really mix.'
Here are Dara and Ed at a chicken beauty pageant
Watching a lion dance in Malaysia
And here they are preparing for a party.
• Ed And Dara's Road To Mandalay begins on Sunday at 9pm on BBC2, or in Ireland it's on RTE One tomorrow at 10.15pm.
Published: 3 May 2017
Recent Punching Up
What do you think?