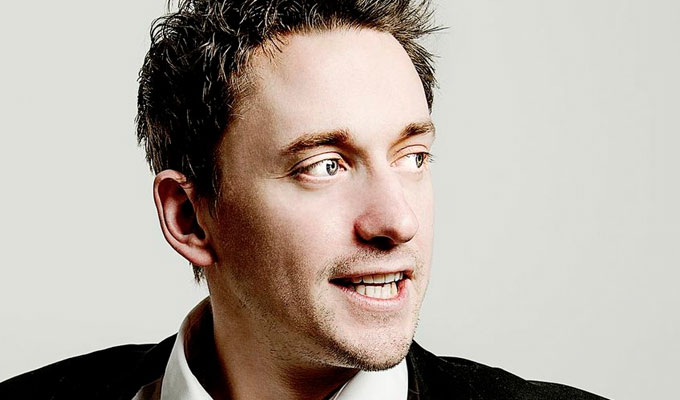 A Quarter Past Babes, a feminist track
John Robins prides himself on his taste in bands – but now he has revealed that in 2009 he recorded a concept album… called Doing It With Women.
The 15 tracks include When Babes Attack, A Quarter Past Babes and Three Courses of Doing It At The Hot Babes Cabaret.
But he says the songs, recorded with his friend Ben, were 'tongue-in-cheek'.
He has shared some of the songs on Radio X's drive-time show this week as he and his usual radio colleague Elis James cover for Johnny Vaughn.
James compared Three Courses to The Rolling Stones and Robins's 'very sexy gravel' vocal to Tom Waits crossed with Vic and Bob's club singers, you can judge for yourself here:
(This is cued up for Three Courses of Doing It At The Hot Babes Cabaret. When Babes Attack is soon after, at 27mins 45sec)
Robins explained: 'Say you've got two healthy guys but you're not having any success with ladies at that moment … it's then very funny to talk as if you are.
'In a lighthearted way, it's a feminist album at heart. I had a T-shirt with [Doing It With Women] printed on and the woman in the T-shirt shop laughed so hard.
'I invited all my friends round my house [for a launch party]. We called the party Ben and John's Christmas Babes Attack. And it meant that no women turned up because they didn't quite get the joke … and because it sounded sinister.
'The political climate has changed somewhat. I'm not sure I could release an album called Doing It With Women anymore. And rightly so.'
While the album isn't commercially available, it does appear to have graced the nation's airwaves before, with BBC 6 Music's website suggesting that Robins's former housemate Jon Richardson played some of it on his show in 2009, even if the corporation credits the record to the US nutrition and environmental author John Robbins.
Published: 13 Apr 2017
What do you think?