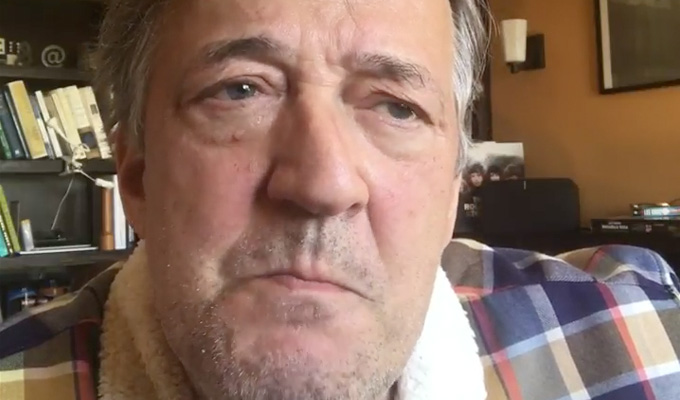 'It can be a terrible curse...'
Stephen Fry has recorded a message for his younger self as part of a mental health campaign.
The comic was told he might have bipolar disorder when he was just 15, but he said that at the time 'I just through I was a bit strange'.
But he went on to struggle with the condition and he has recorded this new video for Mental Health Awareness Month to help others in the same situation.
In the video, he told his younger self: 'Your condition is serious, very serious, and indeed can be life-threateningly serious' – and said that meant he should speak out about it to seek help and understanding 'so the enormity of the problem is recognised'.
Buy he also tried to find an up-side, saying: 'Although it can be a terrible curse, there's a way it makes you look at your own mind and understand your own moods... and also that you can harness some of the energy of the upswings occasionally into a creative purpose.
'Not always and I wouldn't want to overstate this idea that it's an artistic thing to be bipolar. But bear in mind that there are people, really high achieving people, who live with it, and who cope with it, and who are in some ways stronger people because of it.'
'It doesn't define you exactly, but you have special connection with your mind and that can only be a good thing.'
He was speaking as part of the Child Mind Institute's month-long #MyYoungerSelf social media campaign, which features a different celebrity talking about their mental health issues each day.
Emma Stone, Lena Dunham, David Cross and Tommy Hilfiger are among the other stars involved.
Published: 18 May 2017
Recent Other News
What do you think?