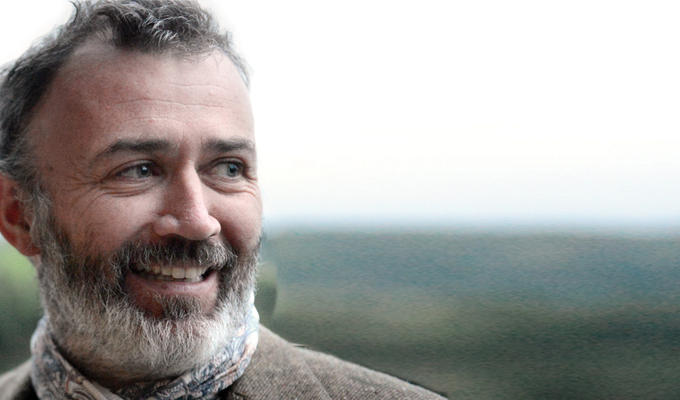 Tommy Tiernan returns to sitcom
Tommy Tiernan is returning to sitcom for the first time in more than 15 years.
The comic is currently filming Derry Girls, Channel 4's comedy set against the Northern Irish Troubles in the run-up to the ceasefire.
Chortle can also reveal that Tiernan has signed up to make two more series of his improvised chat show for RTÉ, in which neither he nor the audience know who his celebrity guests are before they appear.
In Derry Girls, which is based upon London Irish creator Lisa McGee's upbringing in the county in the Nineties, Tiernan plays the father of the main character, 16-year-old Erin. A 'soft southern presence', he is viewed with suspicion by the Catholic northerners.
Apart from Howler, a pilot that he wrote, directed and starred in as part of Sky's Little Crackers strand of shorts in 2012, Derry Girls is Tiernan's first sitcom since the much-maligned Small Potatoes ended in 2001 after two series. In the Channel 4 show, below, he starred alongside Sanjeev Bhaskar, Omid Djalili and Morgan Jones as the under-achieving Ed Hewitt, a media studies graduate who works in a video store.
A source said: 'Tommy came to hate his acting in Small Potatoes, but feels that he's developed his performance skills since then through his stand-up.'
In 2013, Tiernan was commissioned to write, direct and star in a sitcom for Sky about a discharged psychiatric patient who returns to live with his mother, shot around his home county of Meath. But he abandoned writing the project after two episodes because he ran out of ideas.
When Derry Girls was commissioned, McGhee said: 'Anything set during the Troubles tends to be a bit grim and bleak, but that just wasn't my experience of Derry as a child and a teenager, it was a joyful place. I'd like to celebrate that.
'It was also hugely matriarchal, so I was keen we have a large and varied cast of female characters. There were other things going on in Northern Ireland at that time, there were other stories, I'm excited to have the opportunity to tell some of them.'
The Tommy Tiernan Show, partially inspired by the comic's experience of performing improvised stand-up shows, has been a critical and rating success for RTÉ One, so its recommission for a second and third series comes as little surprise.
Guests on the first series, which began in January, included Russell Howard, jockey AP McCoy, model Vogue Williams and ex-footballer John Aldridge.
- by Jay Richardson
Published: 19 Jun 2017
Recent News
What do you think?