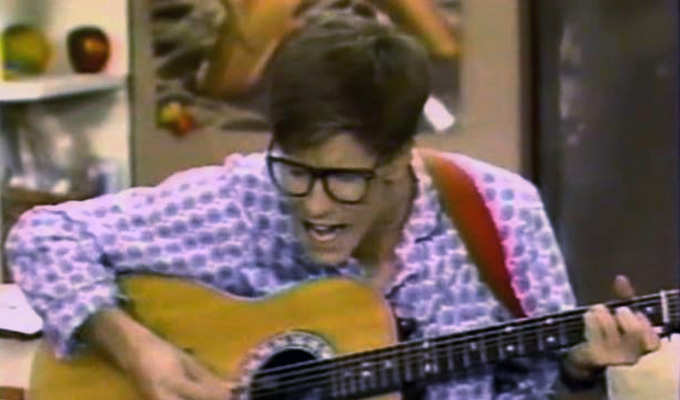 Released: A 'lost classic' of live comedy
The best comedy on demand.
Steven Banks' Home Entertainment Center
This solo variety show has been considered a 'lost classic', filmed in 1989 as a Showtime special but never commercially released. More recently, Banks made an impression in The Aristocrats, telling his version of the famously dirty joke in the guise of his alter-ego Billy the Mime.
But in this breakthrough show he is Dilbert, trying to hang on to his rock-star dreams – playing banjo, flute, bass, drums, harmonica, and guitar as well as channelling Elvis, Bob Dylan, Paul Simon, and Van Morrison as he lives out his daydreams in his flat. All while he should be writing an important speech for work.
The show has now been acquired by on-demand service NextUp, which made it available this week.
Resting
Online comedy film-makers Turtle Canyon continue their push into longer-form content with Resting, a 23-minute comedy-drama about out-of-work actors. Bobby Davro makes a cameo as a pub landlord and Robert Lindsay pops up as himself in a flatmate interview scene akin to Shallow Grave's memorable moment.
The main cast, however, comprises Lauren Reed, Sydney Stevenson, Isla Ure and Owen Pullar, playing young actors and friends trying to make a living in an unforgiving London. This the first of a planned six episodes
Bennett Arron Worries About
In the first of three episodes of this BBC Radio Wales show, out now on iPlayer, the comedian worries about getting older – lying to people about his age; and visiting the doctor's surgery so often, they think he's a member of staff.
Shrink
A new half-hour offering from US on-demand service Seeso, and spawned from an online improv project from its creators Tim Baltz and Ted Tremper. Though it's a subscription service Seeso has put the first episode up on YouTube.
Baltz plays David Tracy, who tries to gain a licence to be a therapist after finding himself homeless, jobless and deep in debt. To do so he has to counsel patients under supervision, who he finds via a Craigslist post offering 'free therapy from a future doctor'.
In its review of the series, the Los Angeles Times likened it to an indie film 'with heart without getting sentimental', noting that 'David is a difficult character: angry, self-obsessed, childish, remarkably dense at times' yet viewers still root for him to do good.
M*A*S*H*
Robert Altman's 1970s satire on the Korean War, which spawned one of the biggest (and perhaps unlikely) sitcoms on American TV, has been added to Netflix this week.
Published: 18 Mar 2017
What do you think?