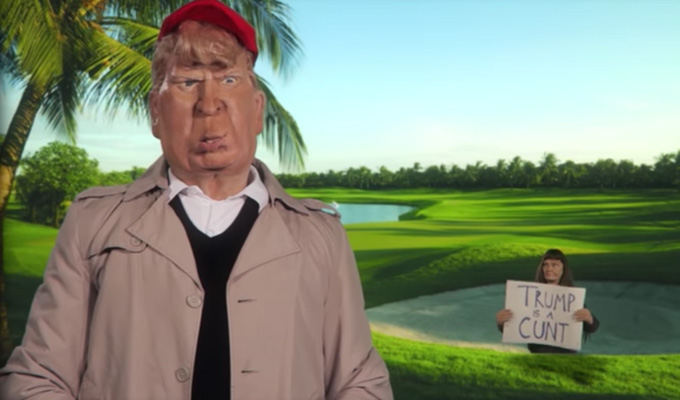 A familiar sign
Janey Godley's golf-course protest against Donald Trump has made it into the South African version of Spitting Image.
Last June, the stand-up staged a one-woman protest when the tycoon visited his Turnberry resort in Scotland, welcoming him with a home-made placard proclaiming him a 'cunt'.
Now the moment has been recreated in latex, thanks to a sketch on the South African satirical show Puppet Nation, also known as ZA News.
The scene mocks the President for playing golf more than Obama – and when Trump is portrayed on the links, there's a representation of Godley waving the same placard:
And here is Godley making her protest on the course last year:
Me explaining who #trump is to the cops note the trump helicopter in background of #Turnberry #scotland pic.twitter.com/mFXz7rWm71

— Janey Godley (@JaneyGodley) June 24, 2016
Puppet Nation was nominated for best TV comedy in last year's Emmy Awards, losing out to Dave's Hoff The Record.
Published: 17 Mar 2017
What do you think?