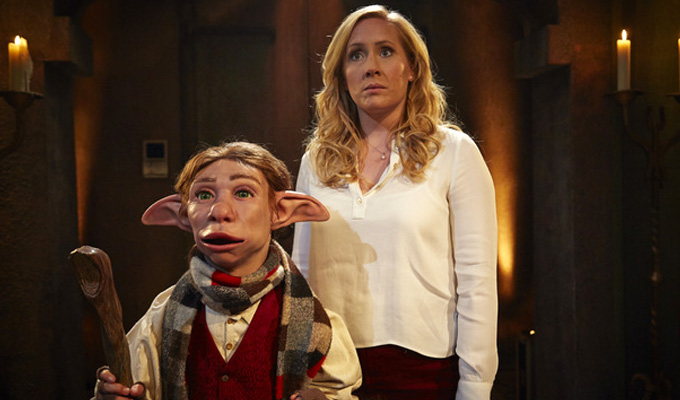 'We are closing the portal for good'
Sky1's comedy fantasy series Yonderland will not be returning, it has been announced.
The team behind the show have released a joint statement saying that: 'After three series and a ridiculous amount of fun, the time has come to hang up our Elders' robes.
'With no cliffhangers left dangling and a Christmas special as the cherry on top of our Yonderland cake, the decision has been made to close the portal for good.
'We would like to say a big thank-you to Sky Comedy and [producers] Working Title TV for their incredible support over the past four years and to our brilliant crew for all their tireless work across all three series.
'But most of all, a huge thank you to everyone who tuned in. We could not have asked for a kinder or more enthusiastic audience and we look forward to seeing you again on our next adventure.
Yonderland was created by the main team behind CBBC's Horrible Histories -  Mathew Baynton, Simon Farnaby, Martha Howe-Douglas, Jim Howick, Laurence Rickard and Ben Willbond – who signed their farewell missing 'six idiots'
The show revolved around a mum, bored in her suburban life, until an elf appears from a portal in her cupboard, insisting that she's the 'chosen one' destined to save the magical realm of Yonderland.
It launched in 2013 with 1million viewers, but ratings fell below 300,000 for the third series last autumn.
Even a guest appearance by Stephen Fry, as Cuddly Dick in the first episode of that run failed to provide a boost, Other familiar comedy names to have made cameos on the show include Dan Renton Skinner, Nick Mohammed and Anthony Head.
Sky's head of comedy, Jon Mountague, said: 'We'd like to thank everyone involved in creating, writing and starring in Yonderland for three wonderful series and an equally wonderful Christmas special. It was brilliantly unique TV and a series that won't be forgotten by its fans.'
Many of the cast members tweeted their own goodbyes today. Rickard  said: 'It has been an absolute blast, but all silly things must come to an end. We are casting off our cumbersome robes.'
Willbond added: 'It's been a wonderful journey. Thanks to all you lot who've supported the show. You know who you are.'
And Baynton signed off with a: 'Thanks for watching (if you did).'
Published: 17 Feb 2017
Recent News
What do you think?