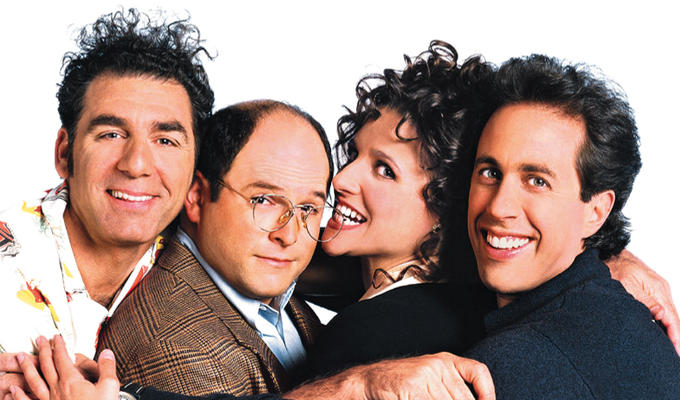 Sein up for this...
This week's best comedy shows on demand.
Seinfeld
Forget Clarkson & Co… this could be the biggest reason to get Amazon Prime: All 180 episodes of one of the greatest US sitcoms of all-time have been made available to stream for subscribers. And maybe this will help Seinfeld get the popularly that was denied it in Britain due to terrible scheduling in the 1990s….
Do You Remember The First Time?
You wait ages for a comedian-led podcast about love to come along, and then two come at once. Following hot on the heels of Isy Suttie's The Things We Do For Love comes another show about sexual awakenings.Christian Talbot asks his guests about first loves, relationships, crushes, heartbreaks, unrequited love and bedroom disasters. Up first is Adam Bloom who tells of the time he peed on a porno mag and how his first crush was on Clare Grogan from Altered Images. Very hack, that, as it's surely true of every straight man in their mid-40s… Listen here
The BBC Norfolk New Comedy Show
This is the result of a BBC initiative to support new and untried comics, from high school stand-ups to those learning how to make studio-based sketches. It's a mainstream comedy show, going out at noon on Sundays, with the novices getting mentoring from comic Tim FitzHigham, who also presents the show.
He said: 'We have a pool of about 100 people that have become involved on and off, which is quite a good number for a small largely rural area. It's lead to the creation of what I think must be one of the few writers rooms around – the writers meet up a few times a month with me, we throw ideas their ideas around and see what's working.'
Fitzhigham hoping the success of this show will lead to the initiative being rolled out across the BBC local network, saying: 'It would be incredible if that could happen and give a huge chance to loads of other unknown comic talents hidden in their bedrooms up and down the country.'
Listen to a 'best of' episode that aired on New Year's Day here – but zap forward three minutes to get to the start.
State Of The Nations
This new Radio 4 series mixes stand-up and interviews with the comedians to explore the identities of the home nations… which is quite a big ask of a 30-minute show that's primarily there to deliver laughs.
But the format certainly provides enough interesting background to make the stand-up routines work better. Elis James hosts this series opener, which also includes Tudur Owen, Kiri Pritchard McLean and Mike Bubbins. Listen here.
And episode two, here, James is joined by Rahul Kohli, Suzi Ruffell and Tom Allen to examine Englishness.
Published: 7 Jan 2017
Recent News
What do you think?