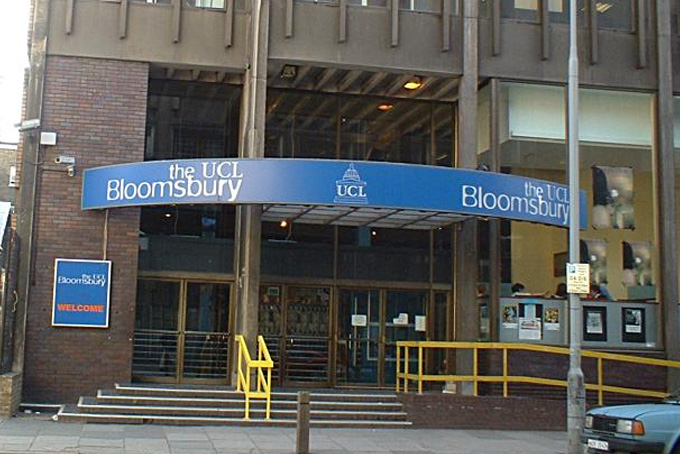 Bloomsbury Theatre to stay shut until 2018
London's Bloomsbury Theatre is to remain closed for at least two more years, it was revealed today.
The 547-seat venue is a favourite for comedy shows, but closed suddenly last year when asbestos was found.
It had been due to reopen in June, but arts societies based at University College London, which owns the premises, were told of the news this morning.
The venue was undergoing a renovation that was planned to take it out of action from January to June this year, but the unexpected discovery of asbestos made the work more complicated, so the closure date was suddenly brought forward four months in September.
And now it will remain closed until 2018 – at the earlierst.
Richard Herring, who had been due to perform his Happy Now? tour there in the summer, tweeted this morning: 'V. sad that venue is closing for so long. Future looks a bit bleak.'
Craig Campbell and Jenny Eclair also had tour dates planned for later this year.
It is one of London's few theatres of its size, and has proved immensely popular with touring comedians. Shows from Robin Ince, Chris Ramsey, James Acaster and Festival of the Spoken Nerd were among those already cancelled following the asbestos find.
A spokesman for UCL said: 'The UCL Bloomsbury Theatre has been closed since June last year after planned building works impacted on a known asbestos problem. We have a stringent process to manage asbestos so performances at the theatre were suspended until further notice. It has been difficult to predict the length of the closure given the complexity of the work needed to make the site fit for purpose.
'The reopening was initially scheduled for early 2016 but the extent of the work required now means the earliest potential re-opening date for the theatre has been put back to early 2018 to allow for an options appraisal to be undertaken."'
Meanwhile, London's Piccadilly Comedy Club has lost one of its venues after the upstairs room of the Comedy Pub in the West End was hit by fire at the weekend.
A blaze in the neighbouring building started in the early hours of Friday morning, and took six hours to put out. It did not directly damage the Comedy Pub, but it did destroy the fire exits for the first-floor venue, making it unusable until repairs are completed, which could take up to two years.
The club has moved its shows to the nearby Grace bar, and will continue to run its gigs downstairs in the Comedy pub.
Promoter Mike Manera said: 'The lovely first floor room, along with the fabled upstairs/downstairs double up, is lost for the immediate future.'
Published: 1 Feb 2016
What do you think?