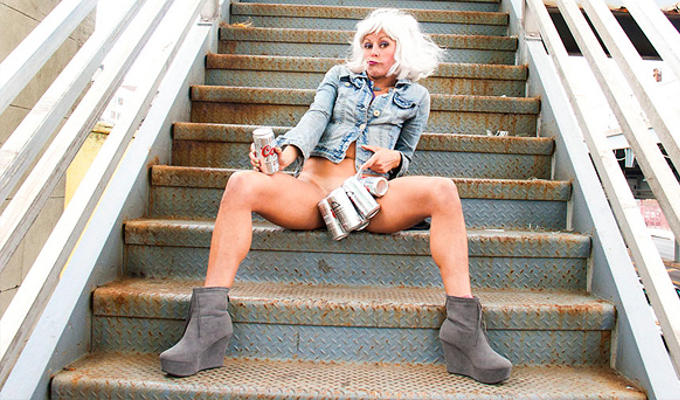 Award-winning pussy
Adult cabaret act turned outrageous stand-up Adrienne Truscott has won this year's Malcolm Hardee award for comic originality.
She spent much of her show, Asking For It: A One-Lady Rape About Comedy Starring Her Pussy And Little Else! naked from the waist down.
Award judge and Scotsman critic Kate Copstick said: 'This show is brutal, brilliant and brave. It is painfully funny and if you miss it you will miss the moment in the history of stand-up comedy wherein a woman actually took the genre and did something with it that no man could do.
'It is an extraordinary hour. All the more so because Adrienne Truscott isn't even (or wasn't until now) a stand-up. She is one half of the fabulous Wau Wau Sisters but, wau, is she sticking it to 'em now.'
Comic Barry Fearns won the 'Cunning Stunt' award at the same ceremony last night, for printing 2,000 fake copies of Fringe review sheet Broadway Baby in which his own comedy show was given six stars; and a follow-up which claimed he had been nominated for the Foster's Edinburgh Comedy Award.
The judging panel said this stunt was 'in the glorious footsteps of Malcolm himself' – as Hardee once wrote a glowing review of his own show and submitted it to The Scotsman in the name of their own comedy critic.
The Awards also rewarded Gareth Ellis for agreeing to be punched in the face until he got a black eye.
He falsely claimed he had been attacked in the street after getting a one-star Chortle review for Jimmy Savile: The Punch and Judy Show –  but in fact it was his double-act partner Richard Rose who inflicted the wound.
Published: 24 Aug 2013
Recent News
What do you think?