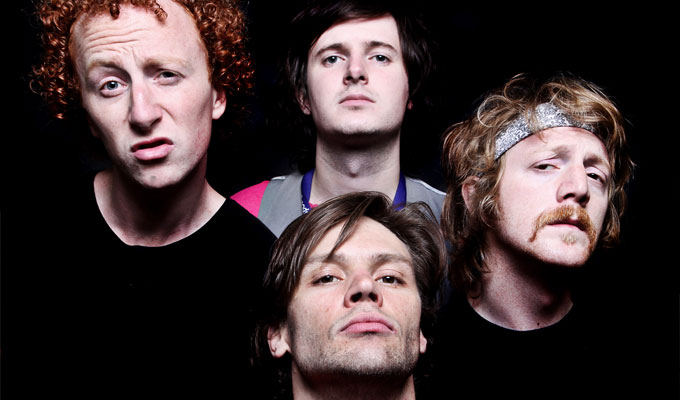 Dead Cat Bounce split
Irish comedy rock band Dead Cat Bounce are splitting up.
The group will perform a farewell show in Dublin in September where they will be rejoined by former member Mick Cullinan.
Despite disbanding, James Walmsley, Demian Fox and Shane O'Brien will continue to work together. They are currently writing their second film, following the success of their low-budget 'guerilla mockumentary' Discoverdale.
Bassist O'Brien attributed the split to homesickness and fatigue with 'the cycle of gigs' across Ireland, the UK and Australia.
'The last year we've focused on writing, so we weren't really touring' he said. 'We realised that actually, we don't have the appetite for the live side anymore, it was starting to get repetitive.
'The movie felt like a logical conclusion for the act, so rather than keep milking it or let it fizzle out, we thought we'd do one big farewell, get Mick back in, and call it a day.
'It's not really a sad ending. We wanted to end it with a big show rather than just decide at the end of a shit gig: "That's it!"
'We all just wound up not enjoying it for different reasons, or some enjoying it more than others. It was starting to get difficult living in six places at once, because we were splitting our time between here, four cities in Australia and gigging in the UK. It was impossible to have a home.'
Keyboardist Cullinan left two years ago, but is returning for the September 20 gig at Vicar Street. The band are promising a special send-off, though 'at this point just getting the gig organised has been a victory'.
'Because we've played Vicar Street a few times before, we've got to do something different,' says O'Brien. 'We've had pyrotechnics and all sorts of nonsense before, so it'll be something equally big with the idea that we can "leave it all" on stage.'
Singer and guitarist Walmsley performed his debut solo show, Don't Swim With Killer Whales, at the Sydney Comedy Festival last month and is bringing it to The Worksman's Club in Dublin on July 11.
Dead Cat Bounce was the latest incarnation of a writing team established when Walmsley, Fox and O'Brien met at Dublin's Trinity College in 2002 and co-founded the sketch group H-Bam.
They made their Edinburgh Fringe debut as Dead Cat Bounce in 2008 with a sketch show and live 'radio play', having brought in their director Cullinan as a fourth member, and gradually shifted from performing sketches to playing as a dysfunctional rock band.
They released three live albums and a charity single for Movember in 2010, Every Time You Shave A Moustache Dies, and shot several music videos for Irish broadcaster RTE, Channel 4 and BBC 3.
They made Discoverdale last year, a spoof documentary shot in the UK and Scandinavia tracing Walmsley's attempts to meet his biological father, whom he believes is former Deep Purple vocalist and Whitesnake frontman David Coverdale.
Produced by This Is Jinsy's Chris Carey and James Dean and directed by George Kane, who co-wrote the script with the band, the film won best narrative feature at this year's Friars Club Comedy Film Festival in New York and picked up awards at the LA Comedy Festival, Nevada Film Festival and Edinburgh Bootleg Film Festival.
Coverdale threw his weight behind it too, 'tweeting classic rock DJs in the US, telling them to mobilise people in New York to go down and see it,' said O'Brien. 'We had really big houses there because of it. He's been great.'
Discoverdale will be showing as part of the East End Film Festival in London on July 6 and at the Galway Film Fleadh on July 12.
Walmsley, Fox and O'Brien are now finishing the script of their second feature, Tandem, funded by the Irish Film Board, about a middle-aged man with a terminal illness who convinces his best friend to cycle around Ireland on a tandem bike.
- by Jay Richardson
Published: 20 Jun 2013
What do you think?