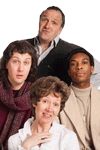 'Damp' rises to the stage
Rising Damp is to return as a stage play.
Original star Don Warrington, who played Rigsby's cultured nemesis Philip Smith in the ITV sitcom, is to direct the new version, which tours the UK this summer.
The classic Seventies comedy originally started on the stage, with a production called the Banana Box, which Eric Chappell wrote in 1971, when he was still an auditor for an electricity board. That original was dusted down in 2011 for a run at Manchester's Lass O'Gowry pub studio theatre.
This new version has been adapted by the Comedy Theatre Company, which previously produced stage versions of Birds Of A Feather and Victoria Wood's Dinnerladies .
The UK tour will launch in Blackpool at the Grand Theatre on May 14 before taking in Darlington, Salford, Malvern, Norwich, Sheffield, Woking, Bradford and Richmond.
The play's cast includes Stephen Chapman as Rigsby, Paul Morse as the left-leaning student Alan, Cornelis Macarthy as Philip and Amanda Hadingue as Rigsby's love interest, Miss Jones
Tweet
Follow @chortle
Published: 9 Apr 2013