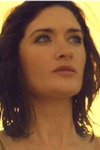 Comic's film is the toast of Paris
A short film written by Nat Luurtsema has been named best comedy at the European Independent Film Festival in Paris.
She also starred in Island Queen alongside comedians Sam Pamphilon, half of the McNeil & Pamphilon sketch double-act, and Toby Williams, known on the circuit as George Ryegold.
Luurtsema said: 'We made it for a grand and it's the first short film I've ever written so we're encouraged to keep going.
'And the festival was in Paris, which to my untravelled Watford sensibilities makes the whole thing 70 per cent cooler.'
She said she now hoped the success would help her make a full-length film with Island Queen's director Ben Mallaby.
In the 15-minute film Luurtsema, part of the Radio 4 sketch group Jigsaw with Dan Antopolski and Tom Craine, plays an odd girl who lives on a small island and spontaneously decides to visit a sperm bank.
The European Independent Film Festival, which took place last weekend, featured 108 films from 35 countries.
Here is the film:
Tweet
Follow @chortle
Published: 3 Apr 2013