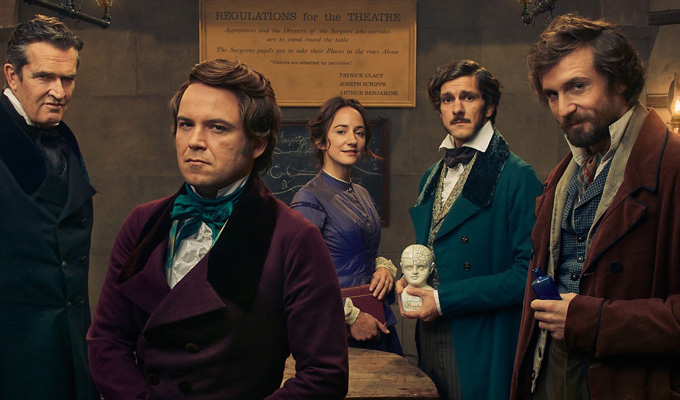 'We're not 100 miles from M*A*S*H'
The extraordinary, daring and wild days of Victorian medicine is the setting for a new BBC Two comedy series, Quacks, which follows the progress of four young medical pioneers fighting to make a mark on the world, beat their rivals and save lives.
Starring Rory Kinnear, Mathew Baynton, Tom Basden, Lydia Leonard and Rupert Everett, the series starts next Tuesday, August 15, at 10pm. All six episodes will be available as a boxset on BBC iPlayer after the first episode has aired
Here writer James Wood, who co-created the hit comedy Rev, speaks about the show.
How did this series come about?
The material is so good. I mean medical history, when you read what these doctors were up to in the 1840s, it was pretty incredible.
I have a friend, Nick Wilson-Jones, who at one point was Britain's youngest consultant surgeon. He's a paediatric surgeon - a burns expert - and about six years ago, we went round the Hunterian Museum, which is a surgery museum on Lincoln's Inn in London.
There was all the Victorian knife boxes there that the surgeons used, and he went through them and said to me, 'I used that one yesterday, I used that one last week'.
I realised that there was this amazing 10 to 15 year period in medicine in the middle of the Victorian era where lots of the medicine we now enjoy was pioneered and experimented.
Then I just read a few medical history books, particularly one called Sick City, about the medical history of London by a guy called Richard Barnett who is now our consultant. It's a really entertaining book: extraordinary stories of doctors across the ages, and zoned in on this bit of Victorian medical history in the 1840s because that's when anaesthesia was first pioneered.
I learnt about these incredible dentists who'd experiment on themselves. Lots of them became drug addicts, and there was this sort of rock and roll, raucous, lunatic element to these men.
Did they have massive personalities, presumably?
They were the rock stars of their day. They could take a leg off in less than a minute, and they had to because there was no anaesthesia.
It was before they found out about germs so people used to pay to go into the operating theatre to see operations.
In fact, we call it an operating theatre because you could go and watch. People would smoke during it, eat pies and watch someone go and have their leg sawn off by a rock and roll surgeon.
It's a bit amazing that nobody has written a show about this before, isn't it?
Yes. There is a great tradition of medical comedy, though, and I suppose in spirit we're not a hundred miles off M.A.S.H which obviously is a very different era and country but it follows in this great tradition of sardonic, witty, arrogant doctors fighting against the establishment.
Our rock and roll young doctors are fighting against a Victorian establishment, which in Quacks is represented by Rupert Everett playing Dr Hendrick, the royal physician, who represents a very outdated way of thinking.
They were also fighting against the religious establishment. There's a scene with the Bishop refusing to be treated and saying that pain was a gift from God, and they really believed that then. Extraordinarily they believed that women should suffer pain in childbirth because it was God's will: that's the era we're in.
I thought that given the lunacy of the medical stories, I wanted to do a raucous comedy version of it, rather than drama version.
All the comedy I do, hopefully, is really researched and authentic.
How do you balance authenticity with humour?
Medicine is funny, bodies are funny. The Bishop insists that his stomach pains are 'just farts' - that's funny. Sophisticated humour, isn't it? The things that they believed back then are very funny, so in the pilot episode we had Dr Hendrick (Rupert Everett) telling a woman with cystitis to hold a warm baked potato on the area, and that was a genuine cure for some ailments. And that was really funny. So those funny bits just come from reading.
Then the comedy also comes from having an arrogant, confident surgeon, played by Rory Kinnear, and putting that character in a position where they get knocked off their pedestal.
Then you have Tom Basden, who is brilliant and very funny playing an aspiring anaesthetist dentist, who takes a lot of drugs and is mischievous and badly behaved.
Mat Baynton is a brilliant comic actor who plays a fledging psychiatrist - which they called an alienist then - and the truth of the situation is they had no cures and didn't know anything whatsoever. So you have this group of men, and also Rory's wife Lydia Leonard, who is playing Caroline, who is trying to become the first female doctor.
Is that based on anybody in history?
Yes, Elizabeth Garrett Anderson was the first trained female doctor in the 1860s. So in this story, Caroline's comedy comes from her being a woman stuck in the wrong era: she's a modern woman stuck in an appalling patriarchal Victorian society and she's pushing against it the whole time. This gang are trying to do good and they make all these horrible mistakes along the way.
And of course nothing was regulated then. You would go into an apothecary and no one knew what it all was and they'd sell it to anyone. You could get poisons - arsenic or whatever you fancied.
As well as the individual medical stories, are there bigger storylines that run throughout the series?
Every week there is at least one medical story, if not two or three. But running every week, there's a love triangle. Caroline (Leonard) is in love with Robert (Kinnear), an arrogant egotistical man because he has a Victorian view of what a woman should be and Caroline doesn't absolutely want to be that. She finds when she talks to William (Baynton) that he listens to her. So they have this love affair which never really goes beyond wrist kissing, because it was a time when divorce was a radical act.
Did you have any involvement in casting?
It's taken six years to get this show on so hooray to the BBC and head of comedy Shane Allen for saying 'yes'. Mat Baynton auditioned for this show four years ago and he was so perfect for William. I think it was before he did The Wrong Mans, and in that time his star has risen and risen, and yet he's always loved this show and always stuck with it.
I then wrote to Rory Kinnear and said, 'I think you're brilliant, would you like to play Robert?', and he very kindly said yes.
Tom Basden did a brilliant audition as John, three or four years before we got the green light, and was just wonderful.
Lydia is an actress I've loved for a long time, she was in a show called Ambassadors where she played an appalling dictator's daughter, so I wrote Caroline with her in mind. And then once we were greenlit, we just got these amazing people - Rupert Everett, Andrew Scott, and Kayvan Novak to name a few, and it's just been great.
Will it have a healthy dollop of pathos, like Rev?
I think this gang of doctors are really likeable because at the end of the day they are trying to save lives, but they do behave pretty appallingly a lot of the time with women, with drugs, and with certain levels of ego and arrogance. But most of my favourite comic actors are pretty appalling people really.
Like who? Who are your favourites?
I suppose the famous ones like Basil Fawlty, Blackadder, David Brent, Alan Partridge. There's a really rich tradition of British dickheads. I think our guys are that. We seem to do that more than most. The Americans do it well on cable channels.
I find it hard to write a comic person who is a moral, good person.
Is it terribly gory?
What we've done is try to make sure that you see very little. But you'll see little rifle shot moments that put it in your brain.
In one episode, Rory does a tracheotomy, which is quite a radical bit of surgery. He's banging a tube into the throat of a guy who's got a tumour which needs to be cut away. You see one little bit of his knife going into the prosthetic, and the rest of it is all off camera. But then your imagination fills in the rest.
Can you tell me more about Rupert Everett's character?
He plays Doctor Hendrick, who is the royal physician and runs the hospital so he very much represents the establishment that our young doctors are fighting against and he's barking mad.
He's anti-Semitic as well, he keeps a 'little book of Jews'. In the pilot he says to Mat Baynton, 'Are you a Jew?', he says no, and he says 'Are you certain? I'll put your name in anyway to be on the safe side', and writes him in. Victorians were unbelievably anti-Semitic.
What about Kayvan Novak's character?
Kayvan Novak plays an Indian mesmerist, which is very entertaining.
There are incredible accounts of people having a tumour removed where they didn't feel any pain. Although a lot of the time it didn't work at all.
They believed that animal magnetism was a force within you, and you could pass it through your fingertips and put somebody into a trance. What you mainly notice is that it was quite dashing men who would take young women into darkened rooms and they would go into a trance and they wouldn't remember anything that happened.
Have you enjoyed seeing the period drama come alive in terms of costume and set and so on?
That's something I'm really excited about. We've a huge cast of 42 which is big for a comedy show. We're making this on single camera so it looks beautiful, and Ed Rutherford is lighting it beautifully.
I'm so proud of how it looks. We have horses and carriages, lots of extras, and splashy sets.
Published: 7 Aug 2017
What do you think?