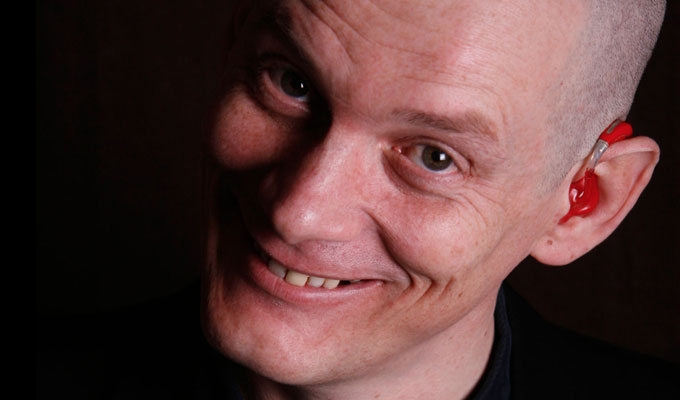 Steve Day
Steve Day Faces The Deaf Sentence
Making a mountain out of a molehill is what comedians do, but Steve Day's gripes about the bureaucratic incompetence of the British criminal justice system is built on a story that struggles to engage.
The trouble is, it's essentially dull to hear of someone else's grievances with the likes of civil servants or call centres, or travel nightmares – even if the frustration is maddening and all-consuming when it happens to you. It's a fundamental problem Day can't get beyond, now matter how angry and indignant he becomes in the telling.
His brush with the courts came, I should stress, as a witness. Sitting at home in Sutton Coldfield one afternoon he saw a man emerge from the house opposite with a rucksack, get on a bike and scarper. But he didn't get a good enough glance of the man to be able to make a decent identification.
Nonetheless, he was plunged into a canyon of red tape, making long-winded police statements, being summonsed to court, told he wasn't needed, then that he was, and then getting shoddily treated when he finally made it to deliver his disappointing scant evidence.
In the annoying process, officials from the Crown Prosecution Service and the courts kept ringing him with crucial information – despite being told he was deaf. Just one of his many grievances
Still, he'll get material out of this pantomime, he says. He does, but it's often quite flimsy. Essentially the sort of yarn you'd normally tut over, roll your eyes at and say something consultatory about like 'This country!' and move on. But it's not enough to captivate for the lion's share of an hour, despite Day's nice-guy charms. And the scaffolding of the hour: that he's exploited his disability for long enough in his comedy that it's only karma that it now humiliates him, is a flimsy one – especially since his ignominy is down to the hopelessness of others.
Some asides are enjoyable; especially a story about a Paralympics event that shows Boris Johnson's true colours, and Day has a few nice throwaway lines as he takes us through his story, gaining our sympathy at what he's forced to endure. It's just that the story itself isn't involving enough for the weight he's given it.
Read More
Published: 20 Sep 2014
Running a marathon is not the most immediately promising…
15/08/2011
Steve Day has done it again. He's created a delightful,…
1/08/2007
There's always a danger a show that collects together…
1/01/2006
Steve paints an idyllic picture of his 12-year-old…
1/01/2006
Day is Britain's only deaf comedian - which certainly…
1/09/2005
For his second full-length show, Steve Day has sensibly…
1/01/2005
With his debut one-man show, Steve Day seems to be…
1/01/2002
Past Shows
Agent
We do not currently hold contact details for Steve Day's agent. If you are a comic or agent wanting your details to appear on Chortle, click here.