Kevin Eldon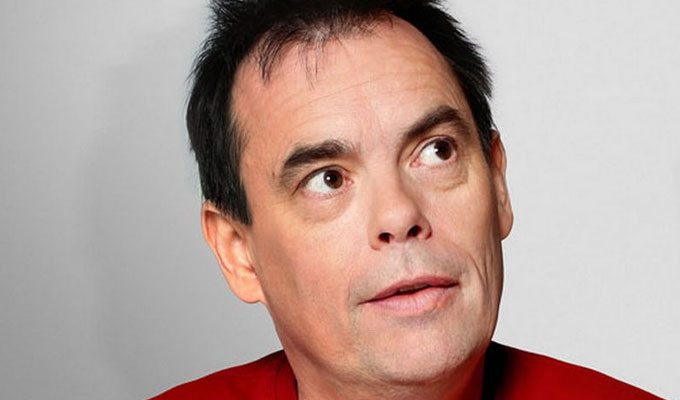 Date Of Birth: 04/12/1960
Kevin Eldon started on the stand-up circuit in the early Nineties performing as the political poet Paul Hamilton, and occassionally he still performs the character at one-off live events.
However, it is for his TV work that he is best known, having taken part in many of the most critically-acclaimed comedy shows of the Nineties and Noughties.
One of his earliest collaborations was with Stewart Lee and Richard Herring, appearing on their Fist Of Fun series on radio and TV, and the follow-up This Morning With Richard Not Judy.
He also regularly works with Chris Morris, appearing in Jam, Brass Eye and Nighty Night.
Other significant roles include Julia Davis' cancer-ridden husband Terry in Nighty Night, a key member of the team on the Big Train sketch show and the lead role of York in BBC Two sci-fi comedy Hyperdrive.
But his full list of credits reads like a 'best of' list of British comedies, with supporting roles in Smack The Pony, I'm Alan Patridge, Spaced, Black Books, 15 Storeys High, Look Around You, Saxondale, Stewart Lee's Comedy Vehicle and more.
Outside of comedy, his credits include Scrope in the BBC adaptation of Robin Hood.
His debut solo show, Kevin Eldon Is Titting About, premiered at the 2010 Edinburgh Fringe, and won the Chortle Award for best show the following year.
Kevin Eldon Videos
Reviews
Stand Up For Shelter
It's a busy time for comedy benefits, with at least six biggies in London over the next week and a half. And with arguably the best line-up of the bunch, homeless charity Shelter got the ball rolling in the West End with its fundraiser at the Wyndhams Theatre last night.
With Richard Herring, Stewart Lee, Kevin Eldon and Sean Hughes the night was dominated by the fortysomething guard – and you could probably count Miles Jupp in that category too, since fatherhood has put a weary head on those younger shoulders. And with all that experience, quality is pretty much guaranteed.
The newer breed was impressively represented by host Nish Kumar, with a finely judged mix of audience backchat, self-deprecating wit, and wryly ironic commentary, who was at his most playful when obliquely tackling experiences down to his 'ethnically ambiguous face'. He has the savvy smarts of a Daily Show correspondent, should Jon Stewart be looking for any new limeys to fill John Oliver's brogues.
A couple of relative newcomers, too, to kick off proceedings. Fern Brady didn't offer a soft intro, with assertively in-your-face stories of 'cock-hunting' on the internet to alleviate her drunken, lonely life. That tone was tempered with a silly look at media hype over a fox attack, which is strong material – but a little disappointing that this is still her best stuff four years after the story broke. Nonetheless, few in the theatre would have heard it before.
Another relative newbie, Stephen Bailey was the only real dud on the night - with vapid tales told with a high-pitched camp almost identical to Alan Carr, but without the charm.
Still Zoe Lyons more than saved the day with a skilfully packaged routine that picked up Brady's 'drinking alone' theme to deliver a classy piece of observational material about boxes of wine, taking ownership of her own, possibly shameful, behaviour while reminding us that we've all been there, too. The desperate images she conjures up are as hilarious as they are identifiable.
Richard Herring closed the first half with his tried-and-tested benefit set, a punchline-packed routine. which starts with the motto 'keep your friends close and your enemies closer'. But familiarity never lessens its hilarious potency, and the phase 'vaginal Frubes' seemed a new addition, not just to his set but to the English language. Adding his routine about a Ferrero-Rocher-based romantic gesture gone wrong, means he has maths covered, too, in a performance that is as smart as it is preposterous.
After the break, Herring's old mucker Stewart Lee did his well-polished - ie ancient - 'If Jesus is the answer, what is the question?' routine, getting more laughs from telling the audience exactly how old it is, as well as painstakingly deconstructing ever minute detail, forensically picking away at the fibres of his own comedy. That also established the tone for a segment about national stereotypes dropped from the last series of his Comedy Vehicle 'because it wasn't good enough'. The laughs of anticipation for what he's primed the audience that he's going to say – and the follow-ups from retroactively explaining the routine – get far more than the perfectly decent content he's destroying.
Another 'veteran' comedian next, in the jowly shape of Sean Hughes, who playfully teases the younger men in the room before cataloguing his litany of middle-aged ailments. The onset of decrepitude is the stock-in-trade of many a comic of a certain age, but his resigned exasperation at such state of affairs and bluntly poetic rescripts render it hilarious here.
Closing part two was Doc Brown – rather surprisingly without his raps, the most significant thing that sets him apart from the comedy pack. His sense of rhythm remains astute, of course, in his wry, unhurried monologues about growing up on a council estate, though anticipation of the beats that never kicked in was a little unsettling, like waiting for that second shoe to drop.
Two contrasting acts in the final section, starting with Miles Jupp who, in an great extract from his current tour, wearily captured the demanding travails of fatherhood, since he has four kids under five, forever sapping his energy and will to live. Combining this with exasperations about everyday middle-class irritants such as train travel, he beautifully described the slings and arrows hurled at a man wanting a quiet life, and brilliantly amplified their effect on his mental well-being. Fine stuff.
And from well-spoken fatigue to manic energy, courtesy of Kevin Eldon, bursting on stage with his guitar and poor French accent. His one-man sketches bounce from the surreal to the punny, with impactful performance and a breakneck speed that wastes no time getting to the nub of the joke then moving quickly on to the next. Such an inventively silly assault on the senses was just the tonic for the end of a packed night.
• To donate £3 to the charity, text the word 'Shelter' to 70060.
News
Comments
Kevin Eldon Dates
Represented by
We do not currently hold contact details for Kevin Eldon's agent. If you are a comic or agent wanting your details to appear on Chortle, click here.