Jerry Seinfeld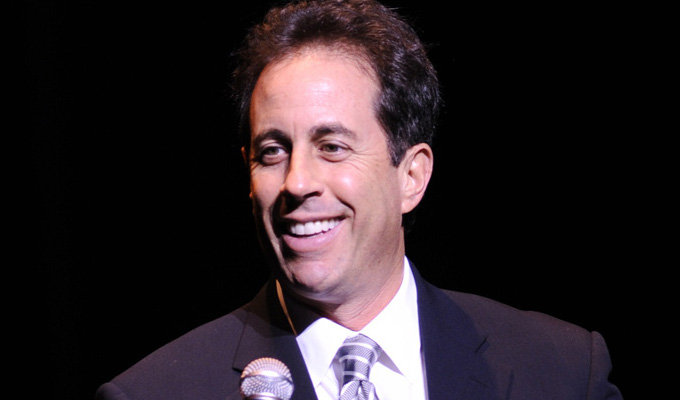 Date Of Birth: 29/04/1954
A born and bred New Yorker, Jerry Seinfeld's interest in comedy began when as student in the city's Queens College, where he communications and theatre. His first open-mic night in the Catch A Rising Star club came in 1976, right after he graduated.
Three years later, he landed a small recurring role on the Benson sitcom as a mail delivery boy who had comedy routines that no one wanted to hear. In May 1981, Seinfeld made his first appearance on Johnny Carson's Tonight Show, leading to several appearances on the late-night talk show circuit.
In 1989, he created Seinfeld (originally titled the Seinfeld Chronicles) with Larry David the show that would go on to become the most successful sitcom in American TV history over its nine-year run. It has made him incredibly wealthy through syndication, and he earns up to $85 million a year, which helps him indulge his passion for cars, owning reported 46 Porsches.
After his sitcom ended, Seinfeld returned to stand-up; recording the show I'm Telling You for the Last Time during his 1998 tour, which briefly visited Britain. He then had to create a new set, a process captured in the 2002 documentary Comedian.
In 2008, he helped create the animated Bee Movie, and provided the voice for the main character. The following year, he again worked with his Seinfeld co-stars for a storyline in David's Curb Your Enthusiasm revolving around a long-anticipated reunion. In 2010, he was executive producer on the American reality show The Marriage Ref.
He has also written a number of books, including 1993's Seinlanguage, based on his stand-up routines, and 2002 kids' book Halloween.
He has been married to Jessica since 1999, and they have daughter and two sons.
Jerry Seinfeld Videos
Reviews
Jerry Seinfeld at Birmingham NIA
Note: This review is from 2012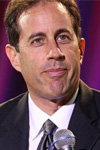 He's a car nut, so this should be an appropriate analogy: Jerry Seinfeld is the Mercedes S-class of comedy. Sure, he might go down the same roads as other comedians; but he exudes top-end style and sophistication as he does it.
Beneath the bonnet, precision engineering ensures the perfect combination of powerful performance and accurate control, while attention to even the smallest finish whispers 'class', ever so discretely. Luxury may take precedent over excitement, but that ensures the smoothest of rides, concealing the power of the engine.
No margin for error is allowed. Nothing to detract from the meticulously scripted 75 minutes of platinum-plated stand-up. But the one concession he does make to the here and now delights the UK audience as he wanders, without fanfare, on to the stage of the National Indoor Arena and hollers: 'Oh my God, Birmingham, England! Do you know how many years I have been wanting to come here?' Then, with perfect deflation and perfect timing: 'Zero. Never even thought about it.'
But we didn't come for a chinwag, but for 'gold, Jerry, gold'. And he appreciates the effort we made to witness it, acknowledging right off the bat just how much of a faff it is to come out to a show; all the rush to get ready and the anxiety of where to eat or where to park. It immediately establishes his Everyman credentials: all that wealth and fame that sets him apart from you dissolves, as he reveals his life to be dogged by the same petty annoyances as yours.
Relationships are inevitably a big part of that, children, too. Laughs of recognition echo around the area as he sums up with the perfect turn of phase the unfathomable arguments of marriage – wittily imagined as a game show you can never win – or his children's hyperactivity. Yes, he covers ground many comics do, but rarely with such class. Hell, he even has a routine about warnings on a Viagra-type drug that will have the staunchest cynic chuckling, despite the familiarity of the landscape.
Ridiculous modern trappings are another favourite topic, which hardly limits his scope. He sees people wandering around with giant beverages in one hand communication devices in the other, and he wonders what has become of humanity.
The slick observational style of which he is the grand-master is usually mocked, with some affection, by reducing it to: 'What's the deal with that?' But the question Seinfeld most often asks is 'Why?' – with a plaintive exasperation to his straining voice. He has a more insightful eye than just noticing stuff, and while he is picking apart our behaviour with forensic precision, it forms part of a bigger picture of a society running on email and Facebook.
The depth is limited, though. Grander ideas are all very well, but not if they don't connect with the everyday experience of his audience, which is Seinfeld's driving force and the level from which he rarely strays. His urgent, purposeful delivery, too, could hardly be described as textured, coming at one constant pitch, of angry bewilderment at how the world – or his life – has come to this ridiculous situations.
But if it ain' broke, don't fix it, just keep on sharpening, adapting, improving. Indeed, this is an evolved version of the show he brought to London last year, with the same themes and key routines, but with a nip-and-tuck here, a new diversion there. The main difference is the ticket price: Londoners notoriously had to pay an wallet-straining £100 a ticket for the privilege, but here, under the aegis of a new promoter, the damage was halved.
Nonetheless, it ensures his audience are of a certain means, able to identify with the First World problems that Seinfeld describes so incisively, and with such precise, concise imagery. At 58, he's still untoppled as the king of observational comedy. What *is* the deal with that?
News
Comments
Jerry Seinfeld Dates
Sorry. We have no listings of forthcoming performances by this comedian.
Represented by
We do not currently hold contact details for Jerry Seinfeld's agent. If you are a comic or agent wanting your details to appear on Chortle, click here.