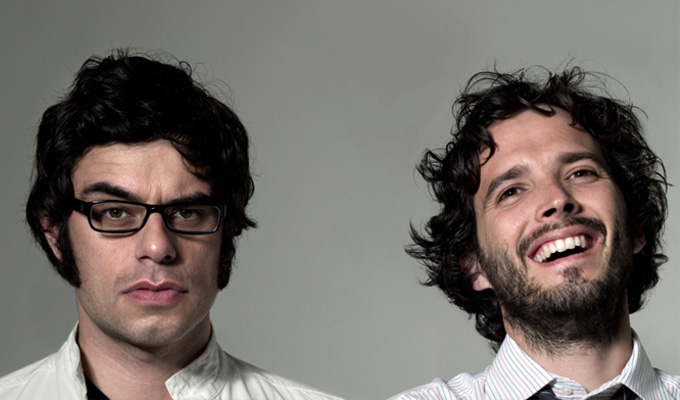 Flight Of The Conchords
Flight Of The Conchords 2010 tour
Note: This review is from 2010
This can't be right. Flight Of The Conchords TV series revolves around their abject lack of success. Yet here they are, selling out arenas in minutes, being reviewed by serious rock critics and attracting adoring fans who scream out requests. Can their delicate comedy of modesty survive such phenomenal success?

Thankfully, it can. They play Birmingham's NIA – one of just a handful of British gigs the Kiwi duo are performing this year – with the same intimacy as the small bars they played at the start of their career. Indeed, sometimes the sense of scale only adds to the joke, as their supposedly ribald tales of rock-and-roll excess – confined to little more than diet-busting muffins – certainly aren't what most bands would tell 10,000 or so people. It's a delightful juxtaposition.

Their earnest songs share this low-key aesthetic. Jemaine Clement and Bret McKenzie aspire to the clichés of rap, rock and funk – yet cannot get beyond their mundane reality. Where most musicians invoke hyperbolic images of either perfect, everlasting love or rampant sexual conquest with the most stunning girl in the world, their ideal is a realistically awkward fumble someone so beautiful they 'could be a waitress'.

Track after hilarious track over this delightful two-hour set exposes the unrealistic clichés of songwriters, from the preachy poseurs intensely highlighting global ills to Boyzone-style ballads. Mostly they avoid direct parody – save for the keenly accurate Bowie and the T-Rexish Demon Woman, complete with Seventies Top Of The Pops visual effects on the big screen. Instead they affectionately tease the very roots of all music, an ambitious brief.

They wouldn't be so huge, though, if the songs weren't brilliant pieces of music in their own right, hence the audience calling out for their favourites. Like Kirsten Schaal's Mel in the TV series, several fans seem to think they're best mates with the duo, and there are sporadic interruptions throughout.

The pair, Jermaine especially, bat away the distractions with good grace – even the tediously inevitable sheep noises mere mention of New Zealand elicits. Because for all their humble shtick, they are charismatically uncharismatic, coolly uncool. The gig feels intimate, and the banter, whether between themselves or directed at the audience, always polite and disarming. Even when they trash the set, they do it very carefully, so as not to cause too much trouble.

For all their reserve, the duo have an impressive vocal range, calling on anything from Barry White bass to Bee Gees falsetto to make their jokes. They've brought in the New Zealand Symphony Orchestra – aka a cellist named Nigel – to add to the musical richness – but they're versatile musicians, even able to make playing a recorder funny, as they get medieval on our arses with the spoof madrigal 1353.

Lyrics radiate wit, from the brilliantly ingenious rhymes to observations a stand-up would envy. Their song Jenny, about an awkward chance meeting in a park, would be a classic comedy sketch in its own right; even before the added impact and timing the perfectly pitched melody adds. This is one of their lesser-known tracks, and all the better for being less familiar, but all the hits are here too, as demanded.

For those who need to know such things, the full set list was: Too Many Dicks On The Dancefloor, The Most Beautiful Girl (In the Room), Hurt Feelings, Jenny, Think About It, 1353, Hiphopopotamus vs. Rhymnoceros, Ladies Of The World, Song For Epileptic Dogs, Not Crying, Foux du Fafa, Bowie, Demon Woman – with an encore of Business Time, Bus Driver's Song, Albi and Mutha'uckas.

That's an impressive catalogue, crossing genres but never losing sight of their aims of holding songwriting up to gentle but incisive ridicule, while paying affectionate tribute to the unrealistic ideals musical icons promote. They do it so well, with songs as funny as they are catchy, that they deserve every minim of their incredible success.
Read More
Published: 11 May 2010
You are going to be sceptical about this - I know I…
1/01/2010
In the world of quickfire comedy, Flight Of The Conchords…
1/01/2010
The modest brilliance of Bret McKenzie and Jermaine…
1/01/2010
Past Shows
Agent
We do not currently hold contact details for Flight Of The Conchords's agent. If you are a comic or agent wanting your details to appear on Chortle, click here.