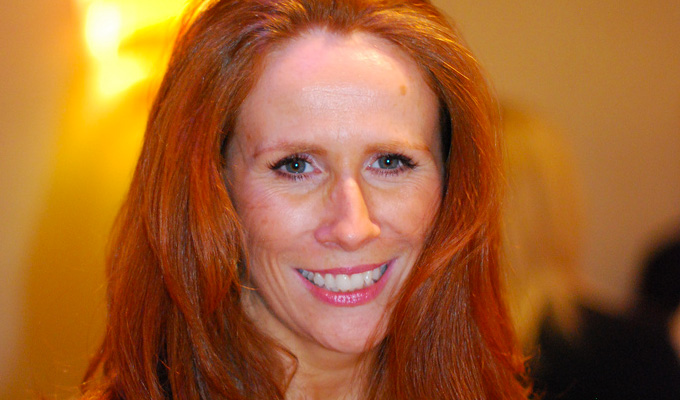 Catherine Tate
© Joeylamb88 | Creative Commons

Bovveration!
BBC Breakfast presented Charlie Stayt made a major faux pas this morning – when he quoted the wrong catchphrase at Catherine Tate.
The comedian laughed off his gaffe when she appeared on the show to talk about her forthcoming tour.
Stayt made the mistake as he started to ask her about the 2007 sketch she recorded for Comic Relief with Tony Blair
'I'm going to get it wrong now,' he accurately predicted. 'Yes but no but, the Tony Blair…'
Catherine Tate jumped in to point out: '"Yes but no but" is not me, but, yes but no but that was Little Britain, but. Oh my goodness!'
She then adopted the character of her schoolgirl Lauren Cooper to say: 'Am I bovvered? Am I bovvered, though? Am I bovvered that you got it wrong. Look at my face. Is my face bovvered that you got my catchphrase wrong? No look. Face. Charlie. Fave. Bovvered. I ain't bovvered.'
Stayt tried to pass off his mistake as deliberate, to prompt Tate into her real catchphrase, but she was having none of it.
'Yeah but no but…' was made famous by Matt Lucas as schoolgirl mum Vicky Pollard, and in 2010 topped a poll for the funniest ever catchphrase, pushing 'Am I bovvered?' into third place.
Tate kicks off her first ever tour in York on October 31. Here is the tour schedule and box office links.
The blunder comes just days after BBC Breakfast showed footage of an escaped gorilla while talking about Scottish First Minister Nicola Sturgeon:
Read More
Published: 17 Oct 2016
Catherine Tate is to make a comeback as her enduring…
20/05/2015
Catherine Tate is appear in a London stage musical,…
8/09/2014
David Walliams comedy Big School is to return for…
2/12/2013
Stand-up Brett Goldstein is to star in a new British…
12/07/2013
Lee Mack and Catherine Tate are to appear in a British…
8/05/2013
Lee Mack has said his biggest regret was ditching…
3/10/2012
Top female comedians including Catherine Tate, Sharon…
10/05/2012
Catherine Tate is to join the cast of the US version…
21/10/2011
Products
Past Shows
Agent
We do not currently hold contact details for Catherine Tate's agent. If you are a comic or agent wanting your details to appear on Chortle, click here.