Bill Bailey
Real name:Mark Bailey
Date Of Birth: 13/01/1964
Born and raised in the West Country, Bill Bailey showed an early passion for music, forming the school band Behind Closed Doors.  It was also at school that he acquired the nickname Bill, thanks to a geography teacher who was a fan of the song Won't You Come Home Bill Bailey?
He seemed destined for a career in music; being the only pupil at his school to study the subject at A-level, before attending the  London College of Music.  In his early years, he performed with an 'enthusiastic if unsuccessful', four-piece band called The Famous Five. But he says he always felt the urge to slip jokes into the set.
Bailey also had a passion for theatre, and he spent much of the Eighties touring with a Welsh experimental theatre company, which he combined with a job as a lounge pianist and a keyboard player in a jazz trio. But one night Bailey saw comic poet John Hegley, who inspired him to combine music and comedy.
In 1986 he formed a double act, the Rubber Bishops, with Toby Longworth, who was replaced in 1988 by Martin Stubbs.  Around this time he was also performing with  London topical comedy team Newsrevue.
Once the double act dissolved, he formed the pub band Beergut 100, and started performing stand-up solo.  In 1994, he performed  at the Edinburgh Fringe with Sean Lock with the show Rock, about an ageing rockstar and his roadie
The following he returned with his debut solo show, and in 1996 earned a Perrier nomination for his show Cosmic Jam. The show was later recorded for TV, but it took until 2005 for it to be released on DVD.
His Perrier success landed him several TV appearances, including a captaincy on the ill-fated Channel 4 sci-fi panel game Space Cadets. But three years after his Perrier success, Bailey was writing and starring in his own BBC Two show Is It Bill Baile?y, featuring  musical parodies, surreal sketches, and stand-up.
He continued to tour and  won the Best Live Stand-Up award at the 1999 British Comedy Awards. In 2001, he toured with Bewilderness and in 2003, he took to the road with Part Troll, following its debut at the Edinburgh Fringe. In 2007 he made the move to arenas, with the live show Tinselworm.
In 2000, he took the role as long-suffering Manny Bianco in Dylan Moran's sitcom Black Books, which cemented his burgeoning TV fame.
Now he is probably most famous as a team captain on comedy pop quiz Never Mind The Buzzcocks, taking over from Sean Hughes in 2002. Bailey has also appeared regularly on QI, Spaced, and as a guest on the likes of Room 101 and TV Heaven, Telly Hell.
Bailey has also been a straight actor. During the 2003 Edinburgh Festival he starred in a production of Twelve Angry Men, alongiside other comedians and two years later appeared opposite Alan Davies in an Edinburgh Fringe producton of The Odd Couple. He voiced the sperm whale in 2005's The Hitchhiker's Guide to the Galaxy movie  In 2007, Bailey appreared in a West End revival of Harold Pinter sketches, Pinter's People, which he helped bring to the stage.
He is also a wildlife campagner and presented Wild Thing I Love You which began on Channel 4 on October 15, 2006.
He became a father in 2003, and named his son Dax after the Star Trek: Deep Space 9 character.
Bill Bailey Videos
Reviews
Funny Valentines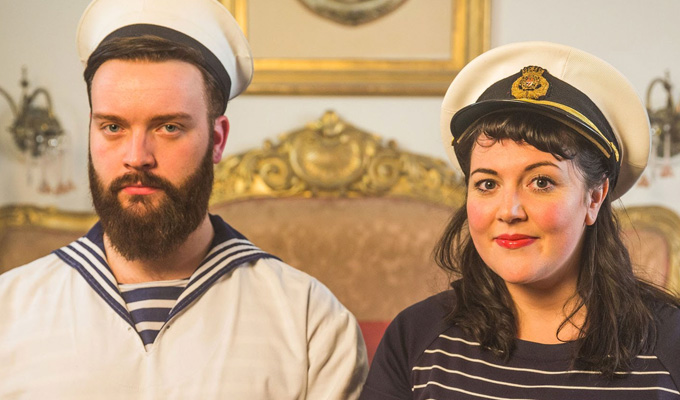 © BBC
The BBC's new Funny Valentine shorts released on iPlayer to mark the romantic weekend just gone are an intriguing bunch - more fascinating curios than obvious pilot pitches; but certainly a good chance for comedians to try their hand at something new – which they've enthusiastically seized. The films are:
Music Lovers
Earnest rock and pop stars provide endless inspiration for mockumentaries, and the latest in the genre features Monozygotic – the most famous fake band to come out of Norway since Armstrong and Miller's Strijka. Featuring Sara Pascoe, John Robbins, Elis James and Vanessa Hammick the quartet are riven with more sexual inter-band tension than even Abba, which none-too-subtly emerges in their electro-pop songs. Some lyrics might lose meaning in translation, but they certainly gain laughs. Written by Pascoe, this is a strong offering, mixing the videos with behind-the-scenes footage in which all the members try to put a brave face on their complicated emotional situation. The eight-minute short was overseen by Sharon Horgan and Clelia Mountford from their Merman Films production company.
Elephant
Nick Helm takes a departure from his shouty stage alter-ego and similarly reckless Uncle character for this understated look at unspoken romance. He even lost the beard. With co-writer Esther Smith, who also appeared in Uncle, they play best pals who while away a skint afternoon in the bohemian Lanes of Brighton, somehow avoiding taking the tenderness of their gently teasing friendship making it to the next level. A warm, wonderfully-made short from the Happy Tramp production house.
Rom Com
In this enjoyable sketch, written by Romesh Ranganathan, he returns to his flat one evening to pick apart an awkward date with Sarah (Aisling Bea) at the bowling alley. Every embarrassing wrong move is replayed in agonising detail as he talks through the disaster with the side of his psyche that he would much rather be. There's the comedy of cringe to his antics, but they come with a nice payoff…
Last Chance
Roy Clarke is known for writing for older characters in Last Of The Summer Wine and Open All Hours, but this bitter-sweet near-monologue offers a more downbeat tone than his usual output. In a lovely performance, Russ Abbott plays a man who sees no point in carrying on now his wife has left him, and as he tries to leave a goodbye message, he is interrupted by cold callers and the neighbour who has been a 'big comfort' to him. This 15-minute piece is more dramatic than the others, with any comedy coming with distinctly bleak shades, but even if it's a long way from wanting a party with a happy atmosphere, it's a charmingly idiosyncratic piece.
A Wee Video! For the Ladies
There's a darker side to Brian Limond's latest creation, too. The comedian, best known as Limmy, plays a nervous would-be romantic filming a clip for a dating website… a premise of god-knows how many comedy sketches. But this cheeky, emotionally mixed-up geezer is more than a broad stereotype, and as he speaks, he reveals more of his believable character – including a violent backstory that might be a bit of a turn-off for the ladies. Again, it's not a laugh riot, but a quirky curiosity.
Dear Jean-Pierre
As Katy Wix writes a break-up letter to the mysterious Frenchman who stole her heart, flashbacks reveal elements of their peculiar relationship that might have led her here. Wix has an affection for the absurd, with the script frequently pulling back to reveal a surreal image or twist on the words she's writing. It's all pretty silly, but played with an absolutely straight bat, her deadpan performance giving no hint that any of this is odd at all...
The Lady And The Fly
This typically classy animation from the Modern Toss fellas wonderfully captures the spirit of romantic melodramas of the 1930s in look and music. However the characters have a distinctly modern feel. A geezer-ish spider (voiced by Paul Kaye) finds a sad-eyed fly captured in his web, and they get chatting, the winged insect (Mackenzie Crook) telling his backstory to the surprisingly sympathetic predator. The witty script reveals he's heartbroken because his relationship with a human wasn't all he'd imagined it to be. It's all rather touching for something so peculiar…
Wild Love
Matt Berry follows up his Lone Wolf short from last year, with his wildlife voiceover offering an more direct-speaking alternative to David Attenborough's dulcet, knowledgable tones. With its honest and expletive-laden and daft responses to brilliant footage ('what the fuck is that?!'), it's not the most sophisticated of the bunch, but is possibly the funniest. And no one can say 'sexually', 'ensue' or 'rituals' quite like the Toast of London star...
Love Song
Bill Bailey's offering is is the odd one out of the bunch, being based on a pre-existing material. But the video, costarring Emma Thompson is visually strong, and 'the duck lies shredded in a pancake/Soaking hoisin of your lies' remains one of the best lyrics ever committed to comedy song, so it would be churlish to complain about a revival of this astute parody of the over-earnestness of rock ballads.
News
Comments
Bill Bailey Dates
Represented by