Bill Bailey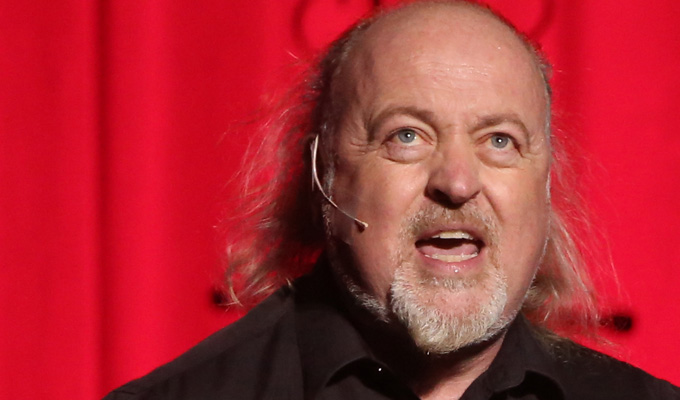 © Andy Hollingworth
Real name:Mark Bailey
Date Of Birth: 13/01/1964
Born and raised in the West Country, Bill Bailey showed an early passion for music, forming the school band Behind Closed Doors.  It was also at school that he acquired the nickname Bill, thanks to a geography teacher who was a fan of the song Won't You Come Home Bill Bailey?
He seemed destined for a career in music; being the only pupil at his school to study the subject at A-level, before attending the  London College of Music.  In his early years, he performed with an 'enthusiastic if unsuccessful', four-piece band called The Famous Five. But he says he always felt the urge to slip jokes into the set.
Bailey also had a passion for theatre, and he spent much of the Eighties touring with a Welsh experimental theatre company, which he combined with a job as a lounge pianist and a keyboard player in a jazz trio. But one night Bailey saw comic poet John Hegley, who inspired him to combine music and comedy.
In 1986 he formed a double act, the Rubber Bishops, with Toby Longworth, who was replaced in 1988 by Martin Stubbs.  Around this time he was also performing with  London topical comedy team Newsrevue.
Once the double act dissolved, he formed the pub band Beergut 100, and started performing stand-up solo.  In 1994, he performed  at the Edinburgh Fringe with Sean Lock with the show Rock, about an ageing rockstar and his roadie
The following he returned with his debut solo show, and in 1996 earned a Perrier nomination for his show Cosmic Jam. The show was later recorded for TV, but it took until 2005 for it to be released on DVD.
His Perrier success landed him several TV appearances, including a captaincy on the ill-fated Channel 4 sci-fi panel game Space Cadets. But three years after his Perrier success, Bailey was writing and starring in his own BBC Two show Is It Bill Baile?y, featuring  musical parodies, surreal sketches, and stand-up.
He continued to tour and  won the Best Live Stand-Up award at the 1999 British Comedy Awards. In 2001, he toured with Bewilderness and in 2003, he took to the road with Part Troll, following its debut at the Edinburgh Fringe. In 2007 he made the move to arenas, with the live show Tinselworm.
In 2000, he took the role as long-suffering Manny Bianco in Dylan Moran's sitcom Black Books, which cemented his burgeoning TV fame.
Now he is probably most famous as a team captain on comedy pop quiz Never Mind The Buzzcocks, taking over from Sean Hughes in 2002. Bailey has also appeared regularly on QI, Spaced, and as a guest on the likes of Room 101 and TV Heaven, Telly Hell.
Bailey has also been a straight actor. During the 2003 Edinburgh Festival he starred in a production of Twelve Angry Men, alongiside other comedians and two years later appeared opposite Alan Davies in an Edinburgh Fringe producton of The Odd Couple. He voiced the sperm whale in 2005's The Hitchhiker's Guide to the Galaxy movie  In 2007, Bailey appreared in a West End revival of Harold Pinter sketches, Pinter's People, which he helped bring to the stage.
He is also a wildlife campagner and presented Wild Thing I Love You which began on Channel 4 on October 15, 2006.
He became a father in 2003, and named his son Dax after the Star Trek: Deep Space 9 character.
Bill Bailey Videos
Reviews
Bill Bailey at Latitude
Bill Bailey surely goes down well in most environments – but festivals especially, given his muso sensibilities and mash-up talents.
That said, when he asked for an unlikely track to be covered in a heavy metal style, one punter in Latitude's packed-to-the-gills comedy arena suggested Motörhead, thus missing the entire point of the exercise. It's been a long festival…
Bailey himself confessed to being 'discombobulated', the result not of a heavy weekend but of the shock of the Brexit vote that so stunned him, and many others. All the comedians who had previously asked their Latitude crowds who voted Out received a near-solitary reply.
The feeling of bemusement and anger that swept over Remain supporters on June 24 is a good match for Bailey's comedy of intelligent bewilderment… some good coming out of the result, though hardly succour for those who think it a brutal self-harming blow to the nation.
Surrealism is perhaps the only valid response in such strange times, so Bailey used his headlining set to let out his exasperation via an extended metaphor about battered vans, delivered with a passion beyond his soft beardy-weirdy persona.
Could his beloved Labour provide the opposition we need in this political ominishambles? He doubts it, likening the choice of Jeremy Corbyn as leader as 'like when a band I've been into for a long time release an experimental album', testing his loyalty.
This astute but distinctively peculiar take on the crisis of leadership was an aperitif for musical elements of the 50-minute set.  It's quite possible Bailey had more kit on stage than any other performer at the festival – full bands included – leading to a 15-minute delay for soundchecks. Kudos, or at least sympathy, ought to go to compere David Morgan for not being crushed by the task of talking to an uninterested crowd while all this was going on. He was given so little respect that music was being played through the comedy stage's own speakers while he was trying to host.
Bailey – a very modern incarnation of a one-man band – used all this to mock  Adele; sing a sinister version of Happy Birthday; offer metal versions of The Birdie Song (once the audience got the gist of what was happening to make a meaningful suggestion) and I've Got A Brand New Combine Harvester (a tune he's previously done in the style of Kraftwerk); and remix the iPhone ringtone into an EDM floor-filler, from iOS music to house music. All guaranteed to make the crowd happy.
Indeed, the elusive idea of happiness was another strand of his stand-up – well that and an anecdote about  being recognised from Black Books by Talin's airport security. 
He might mock the British attitude of feeling 'not too bad', via a wondrously extended riff, but rather celebrates finding joy in the smallest things amid a pall of mild disappointment. 'Contentment is knowing you're right. Happiness is knowing someone else is wrong,' he says, coining a phrase that deserves to be etched in stone somewhere.
Naturally he stormed it, though audiences in Latitude's comedy tent have learned no to expect an encore – so when Bailey hastily shuffled back on to the stage after less than a minute away, the crowds were already dispersing. But they stopped in their tracks to hear Stairway To Heaven on the cowbells – who wouldn't? and Bailey's roadies hadn't dragged the instuments  all the way to this Suffolk field for nothing. And the closing  Irish reel on the mandola would have got everyone on their feet…. had it not already been standing room only to pack as many people into the tent as possible.
News
Comments
Bill Bailey Dates
Sorry. We have no listings of forthcoming performances by this comedian.
Represented by