Aidan Bishop Native New Yorker Aidan Bishop began his comedy career in New York, before moving to Dublin in January 2003, where he became organiser and resident MC of the International Comedy Club. He gigs around the country and is regularly invited to the Kilkenny Cat Laughs comedy festival's intermediate acts showcase, Comedy Cats.
Aidan Bishop Videos
Reviews
Aidan Bishop: Misspelled
Note: This review is from 2011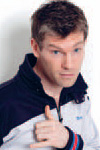 Fifteen per cent of the world's population have dyslexia which, as of 2008, now includes Aidan Bishop.
Bishop's fourth Edinburgh show is an educational piece exploring the issues, myths and his personal struggles with the condition. His opening video, shot in Dublin, quickly gets out of the way the old gag about dyslexia being hard to spell and establishes that most people don't know, or seem unwilling to state, much about the condition. Bishop wants to change that.
This show is a deeply personal journey about his linguistical failings before he understood he had dyslexia, a common one being the use of similar sounding words, such as saying volcano when he meant tornado. By his own admission, his New York Queens accent never sounds the smartest, which coupled with the dyslexia means he was inevitable perceived as dumb and lazy. Despite not initially getting into university he persevered and finally made it, graduating with a history degree.
Bishop's delivery comes across as nervous and forced, seemingly due to the level of concentration he is exerting to not make a verbal mistake. There is a vibe coming from him of a student delivering his final oral report to his teachers. He is far more relaxed when off-script and clearly has abilities as a comic that are more suited to less personally uncomfortable material.
During a brief interaction with people in the audience who also have dyslexia, he quips to a woman who reveals she is from Greece to 'give me back my money'. An interesting tell on Bishop's goal for this show was how easily he gave up on exploring the interesting dynamic between another woman and her male 'friend' – education rather than banter was the priority.
Bishop tries to wrap the show up on a positive note with the very successful people who have dyslexia and some self-deprecating examples of mistakes in his original edits and tweets. This grand finale doesn't come close to the likes of Adam Hills's uplifting endings but I don't think Bishop will lose sleep over it, he aimed to shed some light on the issues and myths about dyslexia and he certainly achieved that.
News
Comments
Aidan Bishop Dates
Sorry. We have no listings of forthcoming performances by this comedian.
Represented by
We do not currently hold contact details for Aidan Bishop's agent. If you are a comic or agent wanting your details to appear on Chortle, click here.