Harry Hill: Wild Horses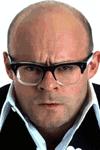 Show type: Tour
2003 tour
Comedians
Reviews
Original Review:
For a comedian who splits opinion more decisively than Marmite, Harry Hill is becoming decidedly mainstream, with two ITV shows to his name this year alone.
Such primetime exposure is sure to attract some new devotees to see his live tour, although those viewers left cold by his surreal outpourings on screen are hardly likely to be swayed by assurances that his is an act meant to be seen in the flesh.
Television cannot hope to capture his inventive energy - the grand, exaggerated gestures and overwhelming stage presence must be toned down for the small screen. Small' is not an adjective that really suits Hill, who cranks up every gag, every oddball thought to way beyond its illogical conclusion.
And that's how every night on his tour, he finds himself on stage, wearing a blond wig, Saddam moustache and a barrel, a badly-drawn Jim Davidson tattooed on one shin, Michael Ball on the other, persuading a reluctant punter to don a giant hamster outfit for the big song-and-dance finale.
What, as someone might say, are the chances of that happening?
With so much assaulting your senses, it's easy to dismiss Hill as a series of gimmicks - the distinctive big-collared image, the badger obsession, the verbal tics and silly catchphrases that pepper the fragmented style he's made his own.
Yet there is more to the act than this, and behind the over-the-top character are brilliant lines any stand-up could retire on.
There's a hugely impressive gag rate, causing non-sequiteurs smash into each other like a multiple pile-up in his stream of consciousness. Some are just plain surreal, but there's keen observation and a certain logic, however twisted, behind most of his thoughts.
In this tour, Hill also reveals a hitherto hidden gift for physical comedy to match his verbal gymnastics. While his overenthusiastic prancing is well-known, the build-up of events that culminate in him grappling furiously with two ventriloquist's dummies, his microphone and a broken chair on wheels could be straight out of a classic silent movie.
But for all its structure and wit, this show is lacking something - texture.
Certainly every trick in the arsenal has been employed, from the showband to the giant kung-fu badger, but the tone of the night is unwavering. It proves just too relentless to hold the attention for the full two hours, whatever the obvious strengths of each individual routine, and once you're out of Hill's unique world, it can be hard to fall back in.
The advice 'he's much better live' certainly still applies, but perhaps to it ought to be added the rider 'as long as it's for less than an hour'.
Steve Bennett
High Wycombe
March 2003
Comments
Show Dates
ADVERTISEMENTS
This comic also appears in: