Comedy4Kids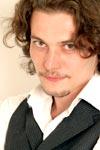 Show type: Tour
This show has not yet got a description.
Comedians
Reviews
Original Review:
James Campbell claims to be the only stand-up for children. We sent Ava Vidal to review it, with two much tougher critics... her children, Shaquelle, nine, and DD, four:
Ava's review:
Usually, when I take my children to shows aimed at them, I tend to switch off quite early. But, that was not an option here as, from the very beginning, it is obvious James Campbell is not your usual children's entertainer.
He did not leap on to the stage in a brightly coloured clown's costume, wearing a huge wig and carrying a suitcase full of props from a cut-price novelty store. Instead, much to the delight of the mothers and pre-teen girls, he coolly strolled on dressed in black trousers and a black jacket, looking like a modern day movie star (think Johnny Depp meets Orlando Bloom).
The delivery was energetic, as he went off on surreal tangent after surreal tangent, never once losing his audience, or his way as he mixed stand-up storytelling with lively songs and poems, which he encouraged the audience to repeat, much to their delight.
And many of the jokes managed to simultaneously appeal to all three main sections of his audience. In his surreal tale of what would happen if his mother caught him with a cow in the bath, for example, the adults enjoyed his mother's nagging about whether he had a proper job yet; the younger kids were amused by the falsetto voice he adopted to impersonate her; and the pre-teens loved the fact that this 30-year-old man still got told off by his Mum.
Some of the references were quite old and I wondered if they would be lost on the younger members of the audience, but a quick glance around made it quite clear that few of them felt left out. The only customer who seemed dissatisfied was a six-year-old girl, who five minutes before the end, shouted out the devastating heckle: 'So, is this the show?' - which Campbell fielded admirably.
Although at four, my son is slightly younger than the intended six-to-12-year-old audience, he still managed to enjoy it and keep still for the whole hour. And my nine-year-old daughter enjoyed it too, but as she is at the age where everything is embarrassing', she refused to admit it.
I'd recommend this show to anyone with children to entertain, as it manages to capture that elusive Shrek factor, appealling to parents and offspring alike.
Ava Vidal
November 3, 2003
Shaquelle's review:Most of this show was not funny and I found a lot of it childish. At one point James asked us if we knew who Elvis Presley was. When we replied yes he said that the correct answer to the question was not yes, but uh-huh. He then tried to make us reply like this. Lots of the children did but I didn't because it was embarrassing.
My mother thinks he looked like a film star but he I think he looked ridiculous. His hair flopped around a lot when he jumped up and down while showing us what would happen if we discovered a fire. He should cut it. I did find it funny when he spoke about the difference between big dogs and little dogs. He should make his material more 'middley child' and not so babyish. I will be willing to go and see him again if he is willing to do this and change his material.
Shaquelle Vidal
Aged 9
DD's review:
I think James was funny when he spoke about dogs and having a cow in the bath. His Mum told him off and my Mum always tells me off. James has 'scribbly' hair and I think he should comb it. Then maybe his Mummy won't tell him off anymore. That's it.
'DD' Vidal
Aged 4
Comments
Show Dates