Round The Horne Revisited 2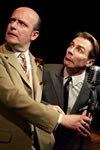 Show type: Theatre
This show has not yet got a description.
Comedians
Reviews
Original Review:
As it enters the second year of its West End run, the resurrection of Round The Horne, the saucy pantomime for people old enough to know better, has been reinvigorated with a new script.
Well, new-ish. Like the first run, this is a near-verbatim revival of sketches from the original Sixties radio show; the punny, innuendo-riddled exploits of a menagerie of over-the-top caricatures that baffled the BBC censors but entertained up to 15 million listeners.
If you don't know the programme, at its centre was the urbane Kenneth Horne, a real-life businessman who ran the Triplex safety glass company and Chad Valley Toys by day. He was the respectable voice of reason around whom Kenneth Williams, Hugh Paddick, Berry Marsden and the seemingly straight-laced BBC announcer Douglas Smith would bring to life the madness created by Barry Took and Marty Feldman.
Then again, if you don't know the programme – even despite its perpetual airings on digital radio station BBC7 or the raft of top-selling cassettes – this probably isn't the live show for you. For much of the joy is in its familiarity, as proved by the cheer that greets every bizarre character like the old friends they have become.
The best-loved, of course, were Julian and Sandy, the outrageously camp double act that was criminally funny – literally, given the illegality of homosexuality at the time. Palare, the gay patois they used, has become a thing of legend. Omis are men, palones are women, bona is good and lallies are legs.
That the spirit of flamboyant, risqué fun has survived into these more tolerant times is testament to the skill of the writing. The three Jules and Sandy outings – if that's the right word – in this production may not match the sheer filthiness of their finest moments (notably, when playing lawyers, they declare they cannot take a case 'because we have a criminal practice that takes up most of our time') yet they remain fantastic fun. Fantabulousa, as it's impossible not to say.
But even these two comedy classics are outshone in this second Round The Horne instalment – and that takes some doing. The undisputed stars this time around are Dame Celia Molestrangler and aging juvenile Binkie Huckerbuck, the Noel Cowardly actors who would never let a flicker of emotion break through their stiff upper lips.
Kate Brown as Betty Marsden and Nigel Harrison as Hugh Paddick excel in these tense romances in which everything is left unsaid - just as they do in every other scene they appear. Brown, in particular, can become anyone from a breathless siren to an innocent six-year-old at the drop of a sound effect; and in one parody ages and rejuvenates in front of your ears as she alternates between Bea Clissold in her days as a starstruck young actress to her declining years as Lady Counterblast.
But both actors have probably the toughest roles of the show, creating a rich variety of distinctive characters, all utterly different. Not a concept Kenneth Williams ever bothered too much with.
Talking of whom, Robin Sebastian is on fine nostril-flaring form, too. True to the original, even when he's not at the microphone, he preens, guffaws and gurgles in the background, ever the centre of attention.
And when he does step forward for his bits – the scant staging for this show being a straightforward recreation of the original Paris Studio recordings – he maintains this fine form, whether as batty folk singer Rambling Syd Rumpo, with his odes to the Runcorn Splod Cobblers or taddle-gropers everywhere, the dirty old J. Peasmold Gruntfuttock, or countless other scene-stealing cameos.
And listen to those names. The product of playful minds so in love with the English language they can't help but tease it. Took and Feldman, and later writers Johnnie Mortimer and Brian Cook (who's responsible for this revival) are some of the most inventive, creative wordsmiths ever to put finger to typewriter.
There's an unmistakable rhythmto their nonsense, not only with the silly names like Colonel McGander-Poke or Daphne Whitethigh, but in almost every line of the joyful script, which contains about half a dozen of the best puns you'll ever encounter. And a few real groaners as well. The sly double entendres are only a bonus.
That said, the writing's not quite consistently brilliant. With the stage show, as with the radio series, some of the longer sketches do flag, a yarn set in deepest Africa, aptly enough, loses its way and a Gilbert and Sullivan parody doesn't do much to excite. But the pace is fast, so nothing's on for long enough to outstay its welcome. Indeed, the whole night is over in under two hours – including an interval.
The make-up of the hugely appreciative audience suggests many come for nostalgia – and with target like Norman Hartnell, Joan Littlewood and PJ Proby coming in for a ribbing, it sometimes feels like you have to. But it's also worth discovering this unique comic world for the first time, even if you do have to bone up on the reruns first.
In all, 66 radio shows were made, which means there's plenty of material yet to be recycled for the stage. Round The Horne Revisited will certainly have lallies - which is bona.
Round The Horne Revisited 2 is at The Venue, Leicester Square

Steve Bennett
February 1 , 2005
Comments
Show Dates