Laurel And Hardy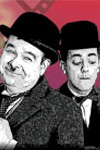 Show type: Theatre
Trapped between this world and the next, Stan Laurel and Oliver Hardy pass their time in a limbo-like waiting room, reprising old comedy routines, swapping gags, bickering and making up.
They will only earn their passage to "The Other Side" by undertaking an emotional journey through their personal lives and screen careers: but are they prepared to re-live the bad times as well as the good?
Presented at the Jermyn Street Theatre, London, from July 1 to 18, 2009, starring Neil Bromley and Simon Lloyd
Comedians
Reviews
Original Review:
Old comedians never die, they just get used as inspiration by playwrights seeking a populist touch.
Tom McGrath's Laurel & Hardy predates most of the raft of nostalgic bioplays, however, as his piece, now being revived at London's tiny Jermyn Street Theatre, was originally produced in Edinburgh in 1976.
It's an unapologetically affectionate tribute; there's only superficial delving into their off-screen personas, lest it get in the way of the entertaining reminiscences that make up this potted history of the world's most enduring double act.
There might not be much depth, but there's much to enjoy for both hardcore fans and those who never quite 'got' their humour - especially those slapstick moments that now seem so forced when the willful effort needed to land themselves in yet another nice mess, rather than avoid it, tests the suspension of disbelief.
Yes, bottoms are thwacked with wayward step-ladders, faces are caked in foam, and long johns exposed to public display - but such antics take up a mercifully brief part of the show, which reminds us the duo could be verbally dexterous too.
They trade banter at a cracking pace, much of which remains amusing to modern ears, and their long career whips past, from young Arthur Jefferson's first outings on the Glasgow music hall, through his change of name, his first teaming up with 'Babe' Hardy in Hollywood, their disastrous split with producer Hal Roach and their sad but inevitable decline as death approaches.
The action nominally takes place as they are reunited in limbo, but actually it crashes through the decades, with Neil Bromley and Simon Lloyd playing not only Stan and Ollie, but dropping into countless peripheral characters at the drop of a battered bowler.
However, it's not the ancillary people we're concerned about – but whether they can play the black and white icons convincingly; and the answer is a resounding yes, capturing the familiar mannerisms and crucial likeability perfectly.
Lloyd has Hardy's screen image to a T, forever preening and trying to appear better than he is, but terribly nervous with it, his marginal superiority over the even more dimwitted Laurel his only real status. Away from the cameras, we learn that Laurel was the sharper operator, Hardy more timid.
Bromley used to be in a circuit double-act himself – Genoude and Bromley (no, me neither) – and has a sharp comic timing. He hasn't quite mastered Laurel's voice, but in deed and presence he more than passes for the master.
Writer McGrath – who died of cancer three months ago – created a perfect primer into the makings of the comedy icons, while this fringe production has also managed to capture the spirit of the men. You'd almost think the Stan and Ollie were alive again.
Reviewed by: Steve Bennett
London, July 2009.
Comments
Show Dates