Lifecoach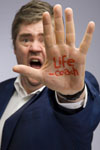 Show type: Theatre
Wendy needs help. Unfortunately so does her Lifecoach. Her life is a mess, her boss is losing patience, her boyfriend has no respect for her and she can't speak up for herself. She needs help and she needs it fast.
Colin is a lifecoach. That's what he does. He gives guidance. He helps people to see where they're going wrong and puts them back on track. He's quick to see where others are going wrong and quick to help them put it right. But what happens when Colin loses his way? What happens when the coach loses direction?
Lifecoach tells the story of two people. One who's lost and finds her way and the other who knows where he is but gets lost.
Phill Jupitus is a renaissance man with a jester's mind, a comic crusader with kryptonite wit, a naughty knave in a keyboard tie. He's one part Jedi, one part Nick Hornby and one part merry prankster with a crackingly good sense of humour. Cast also includes Amy Darcy, Katarina Olsson and Tim Plester.
Comedians
Reviews
Original Review:
Wishy-washy, touchy-feely fads like 'life coaching' are obvious targets for comedy, with their empty mumbo-jumbo crying out to be satirised. So when a cheerily sarcastic comedian such as Phill Jupitus is cast as a New Age guru, you'd be forgiven for anticipating a broad caricature of a nonsense-spouting shyster.
But Lifecoach defies such expectations. Not only is Jupitius's character, Colin, surprisingly sympathetic and ambiguous, but there's more humour, drama and story than a two-dimensional parody could ever offer.
This new comedy is a Pygmalion for the BlackBerry generation; with Colin setting himself the challenge of educating his naïve young charge in the manners of her social superiors. But in the Noughties, her 'betters' are go-getting company executives, and the etiquettes she must learn have names like assertiveness, goal-setting and self-empowerment.
Jupitus may be the famous face, but it's his co-star Amy Darcy, making her West End debut, who is the star. As her character, Wendy, blossoms under Colin's tutelage – from fragile, mousey doormat to a woman in control of her own destiny - she becomes increasingly compelling as an actress, never more so than in the emotional scene in which she tearfully confronts her demons.
Colin, a self-confessed 'jumped-up knob in a pink shirt', normally deals with quick-fix corporate ego-massaging through his patented BLT 'personal development sandwich' – Believe, Let go, Take responsibility. But in Wendy he finds someone in genuine need of help, possibly even professional therapy, to make her able to stand up for herself – especially when it comes to her wastrel of a boyfriend. But Wendy is not as enamoured of the life coach's hocus-pocus as his normal high-flying clientele.
As they bristle against each other, the scene is set for some smart, zippy dialogue. Jupitus brings out the sardonic joker in Colin, while Wendy mutters sceptical asides under her breath. It's often sitcommy dialogue, but from a good sitcom – rich with jokes emerging naturally from the characters.
Gradually the gags make way for the psychology, and the absorbing story unfolds. The Freudian roots of Wendy's self-loathing meekness may be conveniently tidy enough to resolve in an 80-minute play, but the script remains lean and vibrant.
Between the coaching sessions, Jupitus addresses the audience directly, putting his stand-up skills to good use. As a rookie actor – this is only his second stage outing following Waiting For Alice at last year's Edinburgh Fringe – he occasionally seems hesitant even in this relatively straightforward role. But when he breaks the fourth wall, he is lively and fun. And as Colin's confident shell falls away he skilfully exposes a more vulnerable side, showing his range has a lot more potential than the smart-mouthed wit Never Mind The Buzzcocks viewers already know him to be.
The third-act switch, when the newly-confident Wendy outgrows Colin's help, is rather abruptly handled, but it's a rare blemish in an otherwise smart, polished and pacy script by Nick Reed.
This Lifecoach might not change your life, but it'll give you a briskly entertaining theatrical experience, with enough serious undercurrent to keep you interested – not to mention a defining performance that is sure to put Darcy on the map.
Reviewed by: Steve Bennett
May 23, 2008
Comments
Show Dates