Eddie Izzard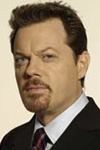 Show type: Montreal 2007
Eddie Izzard wants to get intimate. Two years after selling out Théâtre Maisonneuve, this two-time British Comedian of the Year is returning to Montreal for an up close and personal stand-up event. The master of the free-flowing joke, Eddie takes ideas and situations and extrapolates them into bizarre tangential, absurd, and surreal comic narratives. He is the first to admit that he gets paid well for talking total bollocks - but unlike the bollocks most of us talk, it's funny.
Comedians
Reviews
Original Review:
Eddie Izzard's pauses and mublings have always defined his act, generating chuckles form each theatrical um and ahh, as he seemingly grapples for he next word or idea from the jumble of his mind.
But judging from his Montreal performance, he's three-quarters of the way towards abandoning words altogether in favour of a form of communication based only on noises and gestures. Even for his finale he clucks away like a chicken telling a joke, reducing stand-up to its most basic component – a rhythm that sounds like a gag, regardless of what is actually being said. The laugh is guaranteed.
Elsewhere he grunts like cavemen telling stories, idly engages in some physical business with the mic stand, launches into near-meaningless pseudo-Latin, perfectly mimics the buzzing of a fly and its pathetic death throes or recreates how he imagines bees or giraffes communicate with each other. During all these routines, he says little that's actually intelligible, relying on the strong imagery and the sheer daftness of a grown man acting this way to carry the gag. And it works
When he does actually talk to the audience, Izzard's themes are typically broad and shallow, the product of an inquisitive mind interested in everything, but too lazy to actually read up about it. He swoops over the origins of civilisation, from the Greeks and Romans, and the evolution of life – using the oddness of certain creatures to assert there's nothing intelligent about the way they're designed. His anthropomorphism of the useless human organs thrown up by natural selection, is a classic routine.
This stand-alone show isn't perfect. He doesn't quite know when to draw some of the silly impersonations to an end, and some of the flights of fancy certainly encounter some turbulence on the way.
But after the comparative disappointment of his last tour, Sexie, this generally impressive hour-and-a-bit proves Izzard still has flashes of the genius that made him such a stand-up star. The message that he shouldn't be written off as an imaginative live act now he's living the cosseted Hollywood life couldn't be any clearer.
Reviewed by: Steve Bennett
July 22, 2007
Comments
Show Dates