The Ornate Johnsons Christmas Special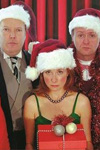 Show type: Misc live shows
Following their total sell-out residency at London's Soho Theatre earlier this year, Brighton Festival Award Winners, The Ornate Johnsons, have decided to put the stuffing back into your turkey for this scurrilous Christmas 2006 sketch show, as they turn their merciless gaze onto every beloved aspect of the Yuletide season
The Ornate Johnsons are Brian Mitchell, Dave Mounfield, Clea Smith, Laurence Relton and Glen Richardson
Comedians
Reviews
Original Review:
This Christmas, sketch group The Ornate Johnsons present a festive collection as familiar as a knitted cardie.
Four-fifths of this Brighton-based troupe, in London's Hen and Chickens for a two-week run, are middle-aged, middle-class besuited men, with a style that's for the most part as straight-laced and old-fashioned as that look suggests. They might be University Of Sussex, but the ethos is Oxbridge.
That's not to say you can't excel within that tradition – and the Johnsons do have a few good sketches and one great one – but don't expect too many surprises. Much of the time they are wryly amusing, rather than rip-roaringly hilarious, with ideas that raise a smile but often struggle to maintain a full sketch.
They're at their best on that familiar ground of juxtaposing gravitas and silliness; the original Saint Nicholas envisaged jollily Ho Ho Hoing he way through plague-ridden streets, a humourless barrister putting Roy Wood on trial for his nonsensical Wizzard lyrics or a solemn Church reading of a playground version of We Three Kings. But once or twice too often they extend this basic idea to employ some out-of-character swearing to elicit a cheap laugh.
Scenes are carried off with spirited performances, however, with the four blokes – Brian Mitchell, Dave Mounfield, Laurence Relton and Glen Richardson – plus token female Clea Smith zipping zestily between characters: one minute a drunken slut, the next a winsome Santa's little helper. It's a cracking pace that reaches its pinnacle with condensed versions of A Christmas Carol and It's A Wonderful Life.
Yet it's not always so breakneck. Indeed, consistency is a problem as the quintet haven't settled on their own distinctive style – a necessity in the crowded sketch show market.
They don't even seem to agree among themselves, with Mitchell happy to be fluid, reacting to circumstances and riffing around mistakes, whereas the others seem more determined to stick to the script – a script which is wildly uneven in quality, too.
One clue that a sketch doesn't work is when you need a narrator to clunkily set it up. An observation that Christmas dinners can be so stifling that even Mark Twain and Oscar Wilde couldn't have a scintillating conversation is quite weak in the first place, without playing out the scene illustrating such tedium in its entirety.
The troupe come alive, however, in big production numbers – or at least as big as a pub theatre will allow – which they pull off with impressive gusto. A tongue-in-cheek Rudolph The Red-Nosed Reindeer parody is so breezy its script failings are irrelevant; a full-on Rat Pack spoof is enlivened by Richardson's gift for mimicry (also employed to good effect as a Cliff-like Jesus in a separate skit that's witty but over-long) and Prince Albert's slapstick frustration at decorating Britain's first Christmas tree is stupidly entertaining.
Their piece-de-resistance, though, is in brilliantly recreating Only Fools And Horses as a blood-sodden opera. It's a mini-masterpiece, this sketch: inventive, expertly performed and faultlessly impressive, it leaves the audience aghast in admiration. It's so good nothing can top it – so the only complaint is to wonder why it is oddly placed three-quarters of the way through, not as the triumphant showstopper it ought to be.
It's a great illustration of the heights which the Johnsons could reach, should they have the determination to chuck out the weaker scenes and discipline to polish the rest.
Reviewed by: Steve Bennett
Comments
Show Dates