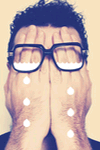 Simon Keck: Nob Happy Sock
Show type: Melbourne 2013
In 2008 comedian Simon Keck committed suicide.
*Spoiler Alert***
It didn't take.
More interesting than the question 'why do people kill themselves?' is 'what happens when they survive?'
This is the tale of a comedian who lost all hope and humor, only to find both in that fleeting moment between life and death.
Also, it has fridge magnets.
Upcoming Dates
Sorry. We have no upcoming listings for Simon Keck: Nob Happy Sock.
Reviews
It's a surprisingly theatrical opening for a gig in a tiny room that probably more used to housing cleaning fluid and toilet paper stockpiles than fringe comedy…
4/04/2013